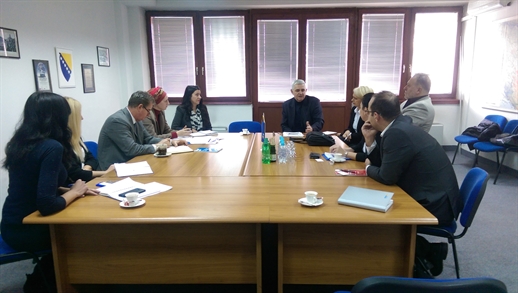 Administrative obstacles that most of BiH companies faced in running business in the state, as well as on the proposed changes to the state level Laws on Income and Contributions that additionally burden the labour cost in FBiH in the amount of 5% were main topics of the meeting which took place on Thursday in Foreign Investment Promotion Agency of BiH (FIPA).
The meeting was attended by Director of the Foreign Investment Promotion Agency of BiH, Gordan Milinic, the Director of the Association of Employers of FBiH Mladen Pandurevic, as well as representatives of the companies Natron-Hayat Maglaj and Sisecam Soda Lukavac, Adis Mustabasic and Vejsil Huremovic.
On this occasion, the businesspeople pointed out that the proposed changes to the laws, instead of stimulating the enterprises' activities, they further discourage existing investors. The result of this action is a reduction of investments and number of employees, and it worsens the situation in the country with 27.7% of unemployed citizens.
Representatives of Sisecam Soda pointed out problems related to obtaining planning approval and a building permit in one particular case. They decided to start building a new manufacturing plant and they get credit resources. At present, they have to wait almost one year to obtain the necessary permits to start implementing their investment. They also pointed out problems relating to the slowness of the courts, citing the case that they waited five years to have resolved a labour dispute verdict.
Participants agreed that this slowness of administration is unacceptable in the country with fewer investments, and a growing number of unemployed. In addition, even though BiH has significant coal reserves, the company imports coal from Romania and Bulgaria.
Representatives of Natron-Hayat, the factory which is operating in 11 countries around the world, emphasized the fact that they will stop the planned capacity expansion in BiH, considering foreseen changes of these laws, as well as other administrative obstacles they face.
It was pointed out that changing Laws in the process of realization of investments sends a message about an unpredictable business environment in BiH, and it is not a common practice in the world.
The participants agreed that FIPA intervenes within its jurisdiction before relevant institutions and authorities in matters related to the slowness administration, and that together with the Association of Employers FBiH continues to work on resolving administrative barriers for foreign investors./IBNA