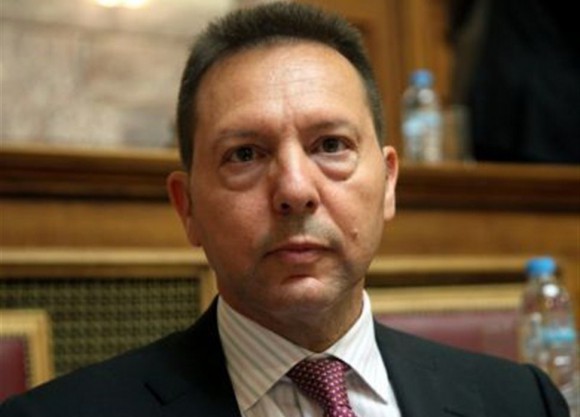 Review by Christos T. Panagopoulos –
Finance Minister, Yannis Stournaras, told reporters in Luxembourg late Monday evening that he was certain no new horizontal fiscal measures were to be taken by the Greek government. He was speaking moments after the end of a Eurogroup session.
Stournaras stressed that government efforts now focused on achieving a larger GDP expansion and adopting measures of a purely structural nature. He added that Greece's "cyclically adjusted primary surplus" amounted to 4 pct – 6 pct of GDP.
The finance minister added Greece was very close to satisfying the prior actions required for the disbursement of a rescue loan tranche of 1.0 billion euros.
As far as the so-called funding gap is concerned, Stournaras estimated it to around 5.0 billion euros for the second half of 2014 and to around 10.4 to 10.8 billion euros for the for the two-year period July 2014 – July 2016. He said an initial discussion was held at the Eurogroup and the decision is expected by the end of the year.
Asked to comment on a statement by European Central Bank (ECB) Executive Board member Joerg Asmussen that Greece's funding gap will not be covered by a bond roll over, Stournaras stressed that all options were being considered. He added that if the gap was not covered by a bond roll over, then an equivalent method would be used. "All options are to be negotiated," he characteristically said, adding that "our partners will observe their commitments in the same way we observe ours."
Speaking on the sustainability of Greek debt, Stournaras said Greece wished to see a "debt write off," noting that this could be achieved in different ways, like for instance through lengthening loan maturities and/or reducing interest rates.
Asked about the time Greece would borrow from financial markets again, the finance minister said it would be good if this could happen before the end of the fiscal program and specifically in the second half of 2014 by issuing a limited amount of bonds.
On his part, Eurogroup president Jeroen Dijsselbloem stressed that Greece had made impressive progress and ​​enormous efforts to achieve a primary surplus. He added, however, that much remained to be implemented, such as public administration reforms, acceleration of privatizations, liberalisation of certain so-called closed professions and continuing efforts to combat tax evasion.
Greece's funding gap would be discussed at December's Eurogroup, Dijsselbloem said, noting Eurogroup's commitment "to provide the proper support to Greece, provided the country meets the program requirements."
Both Dijsselbloem and European Commissioner for Economic and Monetary Affairs Olli Rehn expressed the hope that troika's evaluation of the progress made will be completed by November so as to allow Eurogroup to go ahead with settling the funding gap issue.
Dijsselbloem clearly stated that "no one in the Eurogroup wishes a Greek debt haircut," adding that there were other available means to write off debt.
Finally, Rehn said Eurogroup expected Greece to implement fiscal and structural requirements. As far as the current evaluation by the troika is concerned, he stressed there was some pending "technical work" that should be implemented by the Greek side.
Source: AMNA