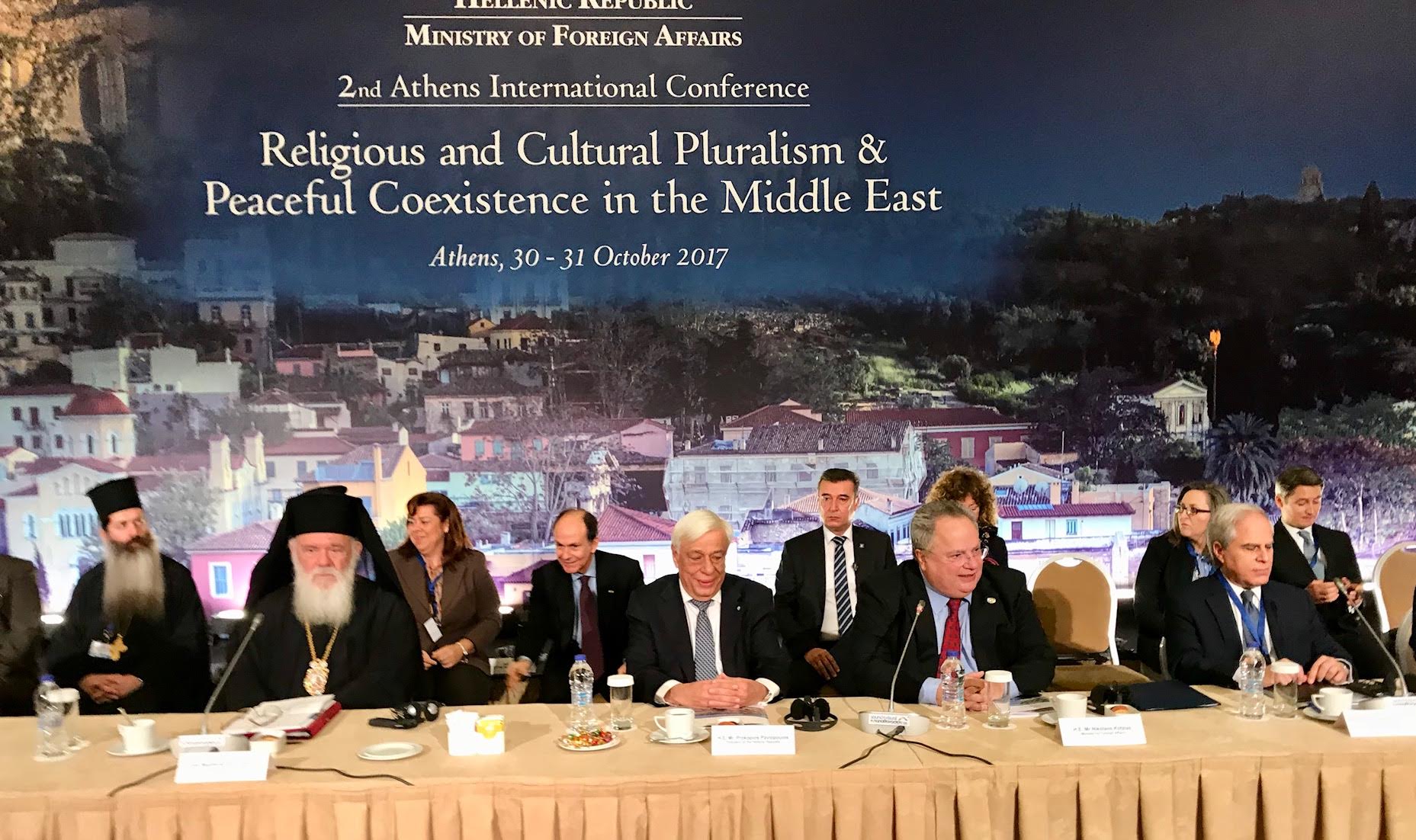 The President of the Hellenic Republic, Prokopios Pavlopoulos, declared earlier today the official launch of the 2nd International Conference on "Religious and Cultural Pluralism and Peaceful Coexistence in the Middle East".
War, conflicts, tensions, multicultural respect, inter-religious dialogue, peace humanism, sociopolitical turbulence, co-existence, co-operation, migration, refugee flows, humanitarian crisis. All were words that the president of Greece used during his opening speech and connected them with the ongoing Middle East conflicts and their effect on the international community.
Bartholomew I of Constantinople
"The ongoing escalating tensions", he said, "are not based on the so-called 'clash of civilisations'", but their alarming spreading "creates the grounds for a global humanitarian crisis".
Nikos Kotzias, the Greek FM who was also there at the launch, spoke of Greece's important position in the SE Mediterranean politics only to go on and say the country's initiatives, "are the main elements of the regional policy of the country, which has always been the craddle of tolerance, intercultural respect and mutual exchange of learning and achievements."
Theodore (Theodoros) II  Eastern Orthodox Patriarch of Alexandria and all Africa
The Greek FM did not refrain from criticising "the lack of a concrete UN plan for the area and the selectiveness of the EU towards certain Member-States."
Due to the need for a significant UN plan, "he proposed the discussion and formation of a special resolution of the UN and the Human Rights Council in 2018, and the inclusion of the issues under discussion in the EU agenda."
Theophilos III of Jerusalem Patriarch of the Orthodox Church of Jerusalem 
Kotzias commented on the special meaning of the European Observatory and the fact it should be further supported. Touching on matters that other officials deny to confront, the Greek minister was clear concerning political extremism and fundamentalism as he said that such people, and terrorists too, "have destroyed sites of common humankind cultural heritage" and "have committed serious crimes against religious, ethnic and social communities in the area".
Speaking of the different religious communities (Jews-Muslims, Christians-Yazidis, Sunni-Shia Muslims, etc) in the wider region, Kotzias highlighted the "need to engage into further discussions and respect of each other."
Archbishop Anastasios of Tirana, Durrës and All Albania
Also, he stated that extremists and terrorists have violated common values, fundamental freedoms and human rights, have destroyed sites of common humankind cultural heritage, have committed serious crimes against religious, ethnic and social communities in the area, while he made clear that the different communities (Jews-Muslims, Christians-Yazidis, Sunni-Shia Muslims, etc) need to engage into further discussions and respect of each other…/IBNA