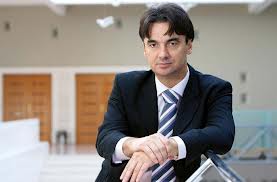 By Natasa Radic – Zagreb
There was a heated debate and a story atmosphere at the National Conference on Economy and Entrepreneurship, held last week at the spa St. Martin na Muri. Most reactions were caused by the speech of Deputy Prime Minister and Minister of Regional Development Branko Grcic (photo), who, among other things, said, "The government is not responsible for creating jobs – just the opposite."
He added that the main problem of the Croatian economy is the decline in investments and said that the government has organized all of its potentials to encourage investment cycle in the country. According to him, a major role in the economic recovery of Croatia will happen because of the forthcoming Croatian accession to the European Union.
Immediately after Grcic, the audience was addressed by President Ivo Josipovic who had different views on the matter.
-Optimism can not be built only on the mere desire, but on results. We need to build a culture of success – the president said. For these words that he said in frong of the representatives of the government, it was more than clear what the President wanted to say – concrete measures are promptly needed in order to reduce unemployment as the biggest social and economical problem of the country.
Prime Minister Zoran Milanovic was not attending the high level economic councellin, but on the same day in Čakovec, in the northern Croatia, after party activities that dealt with the upcoming local elections, he commented the events and statements said at the conference. The journalists have asked him to comment the criticism that the president of the country stated towards the policy implemented by the ministers.
– The president did not criticize the government, you have heard it completly wrong – Prime Minister Milanovic briefly concluded.