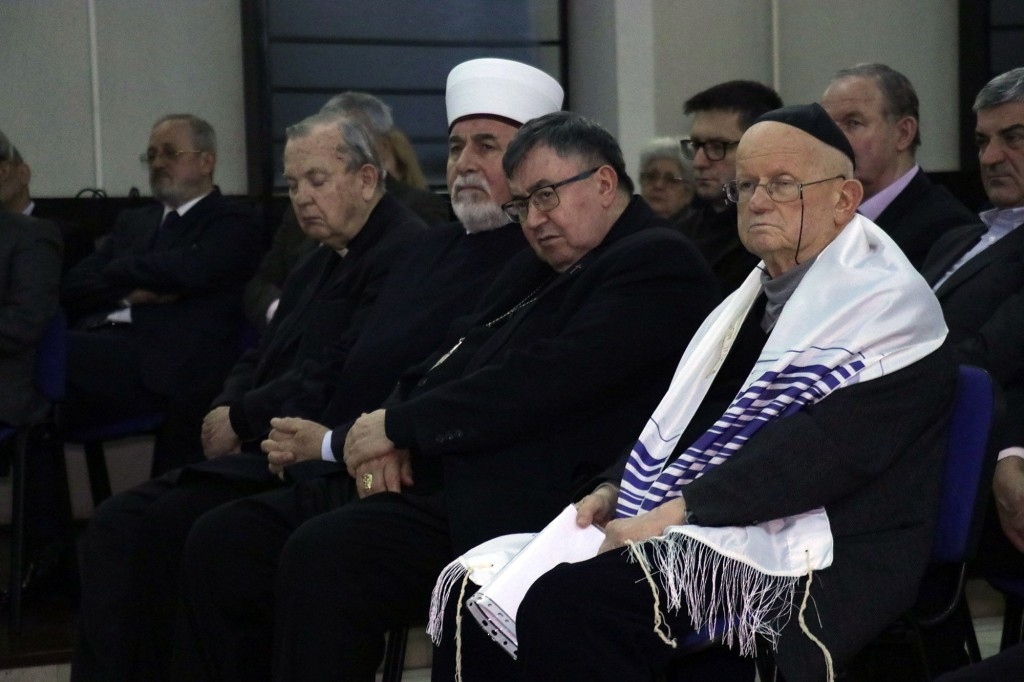 President of the Jewish Community in BiH, Jacob Finci, said today in Sarajevo that remembering the Holocaust for one day a year is not enough.
"When the world unanimously said 'never again', there were genocides in Cambodia, Rwanda, and Bosnia and Herzegovina. We had thousands of dead just because they had a 'different' name, they prayed differently to the same God, or because their political views were different", Finci said, adding that therefore, BiH citizens have to learn about the Holocaust every day.
Under the motto "We Remember", a commemoration service dedicated to International Holocaust Remembrance Day – January 27, was held today at the Jewish Municipality Sarajevo.
Finci said that there is no anti-Semitism in BiH, but there is xenophobia and misunderstandings among ethnic groups.
"Therefore, we fight against anti-Semitism in such a way that the doors of the synagogue and the municipality are open to all and no one asks you who you are or what you are, but they ask you what you need?", Finci stated.
He believes that the schools should talk about the Holocaust and devote at least one hour a year to the tragedy that has plagued humanity, Europe, and the Jews.
"Everyone says that history is a life teacher but obviously we are not good students, because we repeat the same mistakes from generation to generation", Finci concluded.
Professor at the University of Sarajevo Husnija Kamberović confirms that history is a teacher to BiH citizens, but that they are not the best students – since they tend to repeat the same mistakes made in the 20th century.
He explained that crimes such as the Holocaust are not repeated in the same, but in different forms, different historical and social contexts.
Kamberović added that in today's world, people are witnessing the cases of anti-Semitism, terrible populism and nationalism in Europe and the world, which does not mean that evil in such a form as the Holocaust would be repeated, but that people must learn from it in order to become aware of the consequences.
The commemorative service, held in cooperation with the Council of Ministers of BiH, was attended by numerous public figures, from the political, cultural, religious life of BiH, as well as the diplomatic corps in BiH, including the Ambassador of the United Kingdom of Great Britain and Northern Ireland to BiH Matthew Field.
They laid flowers at the old Jewish cemetery honouring the six million Jews who were killed during the Holocaust.
Also, as part of the commemorative activities, the Novi Hram Gallery in Sarajevo is hosting an exhibition entitled "The Road to Victory: Historical Sources Testify"./ibna