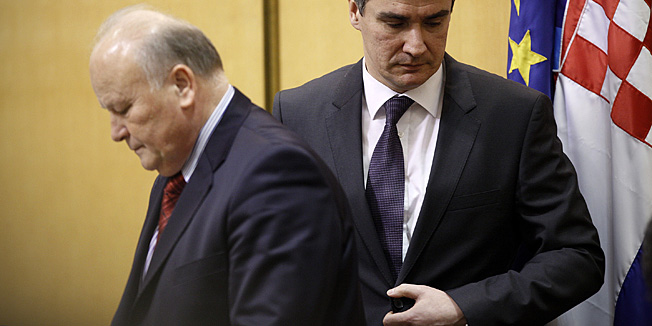 By Marija Avramovic – Zagreb
Ex-minister Slavko Linic will report, no later than Monday, the Prime Minister of Croatia Zoran Milanovic to the Parliamentary Committee for Internal Affairs and National Security requesting for an investigation into possible misuse of the intelligence services, says Novi list.
He announced this at yesterday's press conference in Rijeka, while at the same time accused the Prime Minister for corruption and harming the national interests, stating that as a prominent member of the Social democratic party (SDP) he decided to present his version of recent events that led to his dismissal. Linic also accused Milanovic for "corruption, nepotism and manipulation of the media".
As the real reasons for his dismissal Linic cited the case of INA and Croatian Bank for Reconstruction and Development (HBOR). "I wasn't pleased with the work of a great friend of the Prime Minister's, Sinisa Petrovic, who has quickly become the president of the Supervisory Board of INA. Petrovic is not pursuing government policies inside INA", said Linic.
At the conference that lasted for almost two hours, Linic stressed more than once that his shift came as a result of Milanovic's media intrigues that went as an overture, and that he did everything to protect the interests of members of his immediate family and other associated interests, while he neglected his presidential obligations.
Asked why he waited until now, Linic said that as Finance Minister he had nothing to report because eveyone did their jobs. "Nothing illegal has happened because I did not allow it. It would not be serious to report attempt".
Political analyst Davor Gjenero in an interview for Al Jazeera Balkans said that this was a very unpleasant and serious situation, which comes to show that the party has lost the ability to lead the state. He pointed out that it should check Linic's allegations, starting at whether  the government services are functioning properly and whether there has been a misuse of the secret services to manage conflict within the party.
On the eve of the party's central committee, Gjenero said that SDP would very much relieve its position if they sacked the party's president and appoint a new Prime Minister from among its members, in order to create a serious new government. "The main problem in conducting this is that Milanovic usurped power within the party relying on one dangerous model of president choosing", said Gjenero.
On Wednesday, June 4, members of the party's presidency will meet and Milanovic could already at this session initiate the ejection of Linic from the party, while on the other hand, communication experts and some media are already calling for a vote of confidence on the suitablility of Zoran Milanovic as Prime Minister and President of the party.