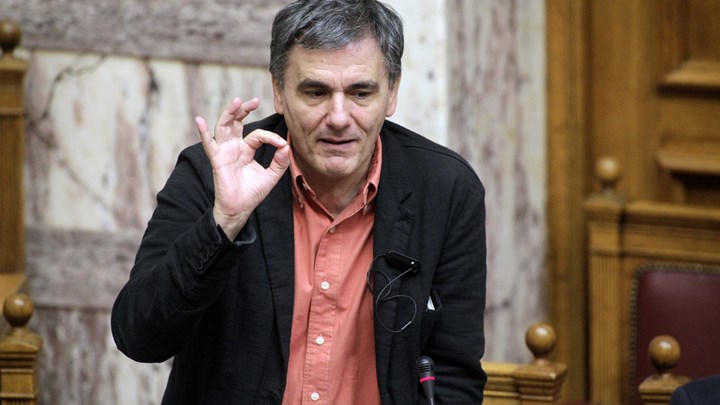 Responding to claims by Bank of Greece Governor Yannis Stournaras that Greece will only achieve a primary budget surplus of 2.9% of output compared to a 3.5% target, Finance Minister Euclid Tsakalotos said he was "absolutely certain" the target will be met this year.
Tsakalotos accused Stournaras of effectively siding with New Democracy and making projections based on his political preferences. He also said that European Commission Vice President Valdis Dombrovskis's recent warnings about a fiscal derailment in Greece were dictated by the fact that he "is part of the same political family as Mr. Mitsotakis" and "believes in austerity".
Tsakalotos went on to predict that SYRIZA can come back from the European election defeat last month to win the 7 July general election. He urged the working and middle classes not to back the "capitalism envisaged by Kyriacos Mitsotakis and the IMF, in which the larger fish eat up the smaller ones".
Amid rumors that he might not be attending Thursday's Eurogroup meeting so as to avoid discussing the concerns of his Eurozone counterparts about the course of the Greek economy, Tsakalotos rejected any notion that he was afraid of being confronted. "We once had Schaeuble and Dijsselbloem against us, will I be afraid now that we have achieved so much and are supported by the social democrats", the Greek minister wondered.
In reference to his party's four-year economic plan which was presented on Monday at the Athens Concert Hall, Tsakalotos said the Greek people should expect a prospective SYRIZA government to support the welfare state and reduce taxes and contributions for the many. Tsakalotos called the plan "balanced" and "supportive of the middle class".
He added that Greece's creditors will be convinced to agree to reduce primary surplus targets by 1% of GDP, while the ratio of appointments to layoffs in the public sector will remain at 1:1, allowing for Health, Education and other sectors to be boosted./ibna