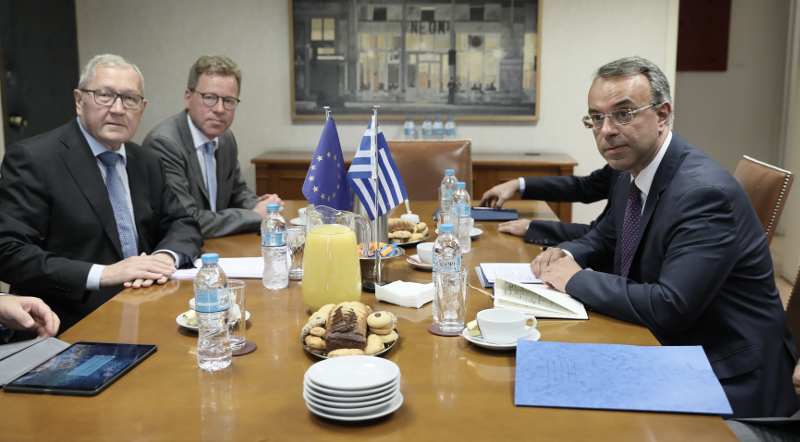 Finance Minister Christos Staikouras on Monday met with Klaus Regling, the managing director of the European Stability Mechanism (ESM) in Athens.
The meeting is one of several that Staikouras is scheduled to hold with representatives of Greece's international creditors. The new Finance Minister will also present his policy plans at the next Eurogroup meeting on 13 September.
Newly-elected Prime Minister Kyriacos Mitsotakis will also meet with Regling on Tuesday. The Greek premier is set to present to Regling an ambitious reform plan that aims to boost growth and attract investment.
As the country's debt management agency prepares the issue of a 7-year bond aiming to raise up to 2.5 billion euros, Staikouras and Regling discussed the Greek economy and the country's commitments to its international creditors, as well as the top priorities of the new Mitsotakis government.
At the end of the meeting, Greek government sources suggested there was scope for changes to the fiscal policy applied by the previous administration with the agreement of Greece's Eurozone partners.
Providing that primary surplus targets are met, the ESM chief is believed to have told Staikouras that the policy mix can change to incorporate some of the tax cuts Kyriacos Mitsotakis has promised to introduce.
It is also clear that Greece's international creditors are not currently open to renegotiating the 3.5 percent primary surplus targets – applicable through to 2022 – and will push for measures to be taken if there are signs of targets not being met.
Finance Ministry sources assess that a fiscal gap will not be opened up this year, despite state revenues dropping in June. However, creditors have warned that the budget will be adversely affected by the previous government's pre-election handouts./ibna