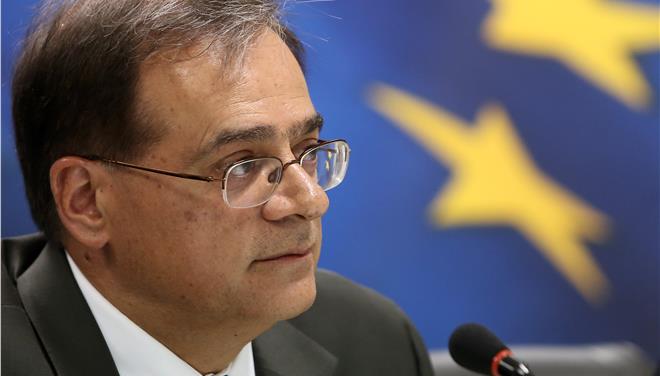 By Lefteris Yallouros -Athens
Greek Finance minister Gikas Hardouvelis defended recent changes made to property tax, introduced to lessen the burden on middle class homeowners still struggling to cope with ongoing austerity and a long recession.
The uniform real estate ownership tax (ENFIA) was initially designed as a fairer and friendlier system to previous property taxes. However, many mistakes in its design led to thousands of properties being excessively charged. The Prime Minister himself admitted calculations were wrong and announced modifications were to be made to allow for discounts.
Complaints emerged from within government ranks on Wednesday about the tax, forcing the government coalition to replace two of its MPs ahead of the vote on the amendments it made this week.
New Democracy and PASOK MPs are furious with the Finance Ministry for announcing amendments that, in their opinion, proved to only marginally bring down property tax. Deputies argue they are embarrassed to turn up at their constituencies having voted the law in parliament.
New Democracy's Lefteris Avgenakis and PASOK's Nikos Sifounakis both said they would not vote in favor of the latest changes to the tax, which include a 20 percent reduction in the levy on homes that are empty or which do not have electricity. An example of the faults recognized by MPs is the fact that even if a house had electricity for a single day it would be excluded from the discount. This, and other provisions make the changes made to ENFIA "a joke" for many MPs and the vast majority of voters.
"I will not consent for a second time to changes that do not solve the problem and which will cause thousands of taxpayers to correctly believe that they are being taken for a ride," said socialist MP N. Sifounakis.
The Finance minister however appeared unaffected by the pressure applied by members of parliament and the press which has strongly opposed ENFIA. "I understand the pressure that government MPs are feeling," said Hardouvelis. "But now that the adjustment program is coming to its end (…) our role, and that of our MPs, is to ensure that the economy and the country continue on their course toward exiting the crisis."