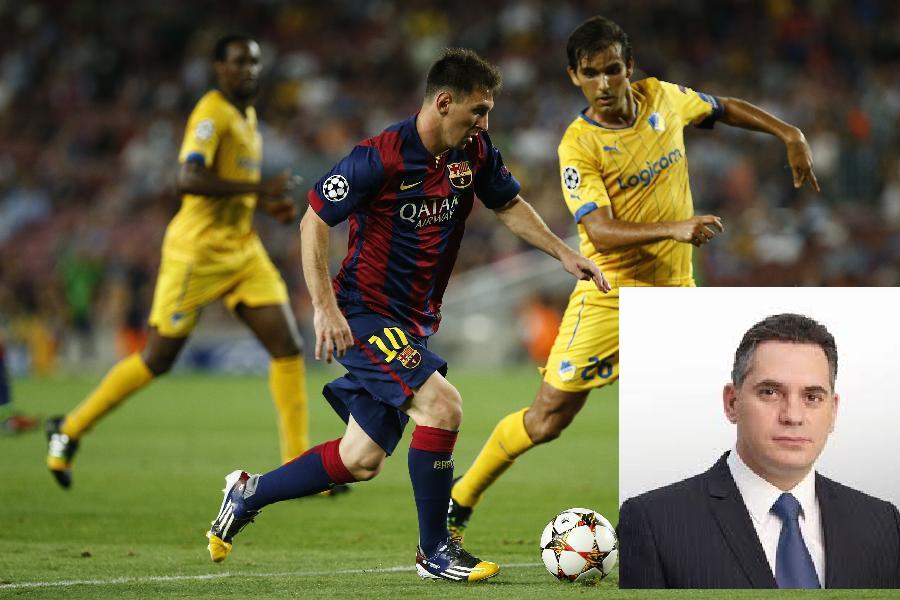 By Kyriacos Kyriacou – Nicosia
President of Cyprus Finance Committee and President of Democratic Party, Nicolas Papadopoulos is under fire for missing a committee discussion on troika bills to attend a football game! Papadopoulos admitted traveling to Spain to attend the match between Barcelona and his favorite Cypriot team APOEL, played last Wednesday.
"I support APOEL, others support Nikos Anastasiades (President of Cyprus). The difference is that only one of the two works well", said Papadopoulos, responding to criticism against him. It is known here that Papadopoulos strongly disagrees with the government's handling on political and financial issues.
Mr. Papadopoulos, who was a guest in the main newscast of TV station MEGA, explained that the two bills on foreclosures referred by the President and discussed at the session he missed, were not as important as other previous bills.
One rejected, one passed
However, he attended yesterday's voting on the foreclosures bills.  The House of Representatives plenary accepted, by majority vote, one of the two referrals relating to foreclosures by President of the Republic Nicos Anastasiades and rejected the other.
The referral which was accepted by a majority of 28 for, 24 against and 4 abstentions, was on legislation initially tabled by MPs stipulating that borrowers have the right to submit a complaint to the Central Bank of Cyprus on violations by banks of the code governing the restructuring of loans.
The second referral, which was rejected unanimously, concerned legislation which gives the Central Bank of Cyprus the power to intervene in case of mass foreclosures.
The plenary then adopted by majority an amended legislative proposal on the matter.
Precondition for next tranche
The implementation of the bills on foreclosures is a precondition for the disbursement of Cyprus` financial assistance package sixth tranche. In approving the bill, the Cypriot Parliament approved a package of additional bills or legislative proposals which Cyprus` international lenders – collectively known as the Troika (EC, ECB, IMF) – say they breach the requirements of the MoU, the legal basis of Cyprus` bailout.
The Cypriot President has already referred four bills directly to the Supreme Court and referred the remaining two back to the Parliament.