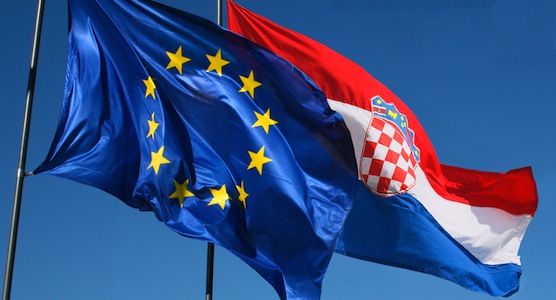 Zagreb by Natasa Radic
Enlargement Commissioner Stefan Fuele delivered the latest Brussels report on Croatia in Zagreb on Tuesday, congratulating the Government for the "great job done in the accession process". Fuele said that there is no need for further monitoring process and expects that the final ratification process of the Croatian Accession Treaty will continue smoothly.
Some member states, like Germany, already announced that they are waiting for the final word from Brussels before they finish with the parliamentary procedure granting the green light for Croatian accession. Now there are no obstacles under way, said Fuele, that should prevent Croatia from joining European union on July 1st, thus becoming the 28 member of the Union.
Fuele also said that in the first six months of EU membership, Croatia will have access to 650 million euros in different funds and that the resources should be used for development projects. Croatia also sets an excellent example to other countries of the Western Balkans that are aspiring for the EU membership, Fuele said.
He delivered the final report participating on the Government's session, congratulating the authorities in Croatia for their efforts, reforms and accesion job done.
First deputy Prime Minister and Foreign Affairs Minister Vesna Pusic said that many of the reforms that Croatia implemented during the accession process will ensure the political maturity, institutional development and stability of the country in the future. She also added that Croatia's Accession to the EU will help further stabilization of the Western Balkans. Croatia will actively assists other candidate countries in the region with the experience and the know-how to help them qualify for the membership.
Only four countries still need to ratify the Accession Treaty; Germany, the Netherlands, Denmark and Slovenia. Upon completing the process, Croatia is ready to celebrate July 1st as the accession date.
The overall national sentiment is still pro-EU but people do worry what will happen after July 1st. Retired school teacher Mirko Antić says: "I just wish that this does not mean that the pensions and salaries will be cut more. It would be fair that we enjoy the benefits of the membership and hopefully not to experience crisis like some EU countries."