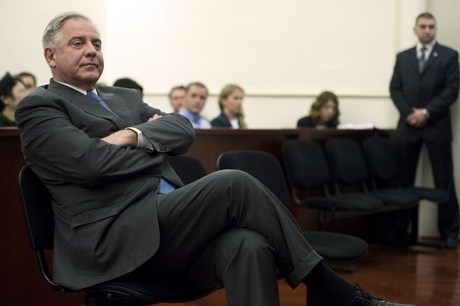 By Marija Avramovic – Zagreb
On Friday The Supreme Court confirmed the first verdict against former Prime Minister of Croatia Ivo Sanader for war profiteering in the case of Hypo and for receiving bribes from the Hungarian oil company MOL, in order to hand them over the management rights in INA, and reduced the sentence from ten to eight and a half years in prison.
The Supreme Court released on its website the reasoning for its judgment, on which it states that in a climate of war "the defendant used his official powers to illicit purposes, as the trial court correctly concluded" and that the penalty is appropriate for commiting criminal offenses.
Sanader put his own personal interests above those of the Croatian citizens and in this way, as a Deputy Minister in the Government, during the most difficult moments for Croatia he undermined its reputation, degrading the sacrifice of fighters in the Homeland war, endangering basic values ​​of society. The trial court made the proper conclusion that this defendant violated the public order, according to the reasoning of the Supreme Court.
The former prime minister will have 15 days from receipt of the valid decision to pay 3.6 million of kuna (474 thousand euros) in the budget, for this is how much he was commissioned in the mid-'90s as deputy foreign minister from the Austrian Hypo Bank. Sanader was sentenced as the first war profiteer in Croatia.
The president of Croatia Ivo Josipovic said that, since the judgment of the former Prime Minister in the case of Ina has become final, "the whole story can be characterized by only one word, and that is high treason", writes Vecernji daily.
Prime Minister Zoran Milanovic said that the final verdict of Sanader is shocking, but regardless of it Croatia continues negotiations with MOL. He added that the judgment burdens not only the former prime minister and president of the Croatian Democratic Union (HDZ), but the entire party.
Cedo Prodanovic, Sanader's lawyer, announced on croatian radio that he will appeal the Supreme Court's decision to the Constitutional Court for number of procedural and formal flaws, as well as for lack of evidence.