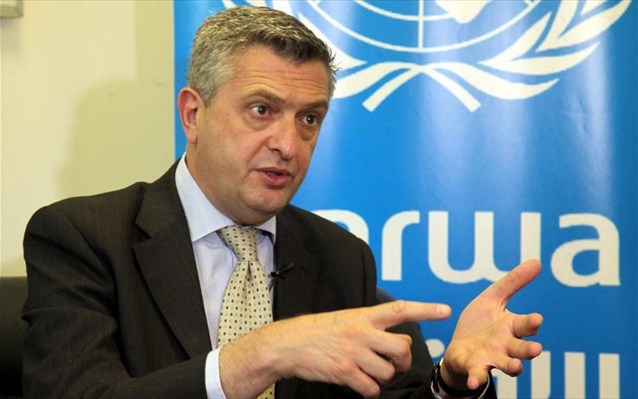 Athens, February 25, 2016/Independent Balkan News Agency
By Spiros Sideris
The implementation of decisions from the European side on the refugee issue, the lifting of restrictions on the crossing of refugees in Europe and the creation of legal channels, has asked the UN High Commissioner for Refugees, Filippo Grandi, in a press conference he gave in Athen.
Mr. Grandi has three major concerns in regard with the refugee crisis:
– The war in Syria has not stopped and that is one of the key factors why people are fleeing the country.
– The European Union does not apply the good decisions taken last year to manage refugee flows and especially the relocation programme.
– The closing of borders in the Balkans "could create an impasse in Greece".
In the latter case, he said there should be a plan B for the hospitality of the people who will stay in Greece, with Mr. Grandi expressing the readiness of UNHCR to assist the Greek government in whatever way necessary.
At the same time, he opposed the closure of the borders of the countries of the western Balkans, saying that it is against European law and the basic refugee law, stressing that these restrictions can not provide alternatives to the people to continue.
"If we block the road and other roads are not opened, then the problem will become more serious, because the networks of smugglers will find new ways to move these people", he said.
At the same time, he called on European countries to lift restrictions on refugees and also asked to create diodes, so that refugees can have legal access to Europe, resettlement, family reunification or educational scholarships.
He also pledged that UNHCR will continue to exert pressure so that legitimate passage will exist for other nationalities as well, including Afghans and Palestinians.
Earlier, Filippo Grandi met with Minister of Maritime Theodoros Dritsas, who briefed him on the increase of refugee and migration flows in the eastern Aegean islands and for the efforts of the Coast Guard to more than 25 islands and not just in the 5 largest ones that have hotspots.
At the same time, he also referred to the greater planning of the Greek government regarding the pre-departure centers organized, both on the islands and on the mainland, but also on practical issues that arise in the implementation of this planning.
On his part, Mr. Grandi, recognized the efforts of Greece, particularly the Coast Guard, which, as he show firsthand at Tuesday's visit to Lesvos, is operating with great professionalism and humanity to rescue refugees and migrants.