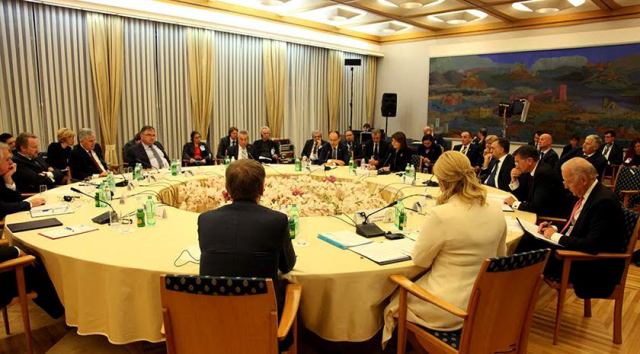 Tirana, 26 November 2015/Independent Balkan News Agency
President of the Republic, Bujar Nishani participated in the extraordinary Summit of the Heads of States of member countries of the Brdo-Brijun Process, held in Zagreb, Croatia.
The Summit was convened by the Presidents of Croatia and Slovenia, with the scope of strengthening strategic dialogue between the Western Balkan countries, United States of America and European Union and for the United States of America to pay more attention to our region in these difficult times of challenges and threats.
Special guests in this Summit were: the US vice president, Joseph Biden; President of the European Council, Donald Tusk and the Austrian President, Heinz Fischer.
The summit was focused on issues of security and fight against terrorism, the refugee crisis from the countries in conflict and the revitalization of the process of the enlargement of the European Union with the Western Balkan countries.
In his speech, President Nishani expressed his concern on the international developments following the Paris terrorist attacks and considered them a cause for concern. The head of the state also said that due to the developments and vulnerability of the Western Balkan region, the European Union and the United States of America must reassess their presence, aid and concrete actions in this region.
As far as fight against terrorism is concerned, President Nishani said among others that Albania has supported and is in favor of the implementation of the incentive of the countries of Western Balkans in the fight against terrorism, a platform initiated during the Albanian chairmanship of SEEC and which has been seen with interest by the EU Council and Member Countries in the meeting with the Council against Terrorism  on 20 November 2015.
Meanwhile, US vice president Biden considered Albania as a leader in the region in terms of the fight against terrorism. /ibna/