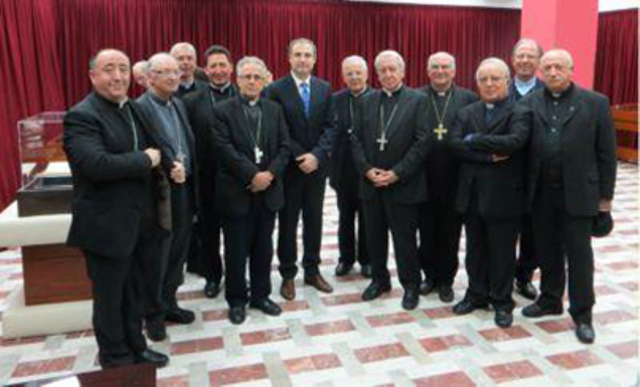 Bishops of the Catholic Church in Albania have grown concerns about the escalation of violence in Albania today. Particularly concerned over domestic violence and threats against the physical integrity of people, bishops of Albania join in their stance to protect human life and the family, which they say that they are two values which must be supported and protected by all of us.
Dr. Albert. P. Nikolla, spokesman of the Albanian Bishop Conference says that through this stance, bishops emphasize the fact that the judicial system, police and state cannot win this fight without cooperation. Therefore, bishops call upon all individuals "not to be quiet", but to become collaborators of the authorities and to report crime as it happens when someone has been a witness".
Tirana, February 12, 2014/Balkan Independent News Agency
From the Bishops of the Catholic Church of Albania*
We, the Bishops of the Catholic Church in Albania, closely follow the developments in our country, not only taking care of the catholic believers, but also by demanding these believers to be a factor of peace and stability for the social life.
We're increasingly concerned about an escalation of violence on a daily basis, especially domestic violence and attempts against the physical integrity of persons. Life and family are two values which must be preserved by all of us. The right of life and family is the foundation of all human rights and liberties. State institutions must be the ones that must protect the life of their citizens. We're a small population and everything that happens has a prompt impact on the life of the family and individuals, especially at a time when media and other means of information broadcast everything at no time.
As a Catholic Church, we try to take messages of cooperation and peace to our communities, not only to the members of the Catholic Church, but to all our fellow countrymen. A lot of work is still needed and we must engage more especially in the domain of education through schools administered by the Church and youth groups that attend our parishes.
But, on the other hand, this escalation worries us, especially when work to improve the situation is replaced by accusations and often violent clashes of those who must be an example and who must lead the country.
First of all, we address to competent authorities to fight crime without compromise. Criminality and violence cannot be fought only by drafting austere laws or by favoring a punishing climate. There must also be a strategy of education which goes through the school and family.
Crime also originates from economic poverty and unemployment at a young age. Poverty that exists in the family, unemployment at a young age, lead to all sorts of unimaginable crimes. Like Pope Francis said, "Social inequality causes a sort of violence which can never be resolved through the use of weapons" (Evangelii Gaudium, no. 60). We believe that employment and educational policies prevent not only domestic crime, but also crimes in society.
The justice system, police and state cannot succeed without the cooperation of everyone: Individuals must not keep quiet, but become collaborators of competent authorities and denounce crime as it happens when they're witnesses of it; different social, economic and religious groups with their institutions, through transparency and by encouraging peace and dialogue amongst each other; political forces too, by building constructive policies and not policies which can evoke conflict, violence and which do not solve problems.
The entire people, and especially young people, have the right to have a better example and safety in their social lives. The fact that the country is soon expected to be granted the EU candidate status gives us more responsibility, especially the political class, to cooperate more in order to march in a determined way toward European Union.
We, as Shepherds of the Catholic Community, express our unwavering support in the fight against crime and corruption and pray to God to inspire our minds and hearts for a better and peaceful Albanian society, away from violence and arrogance, for the solution of problems and conflicts.
"Sent by the Albanian Bishops Conference