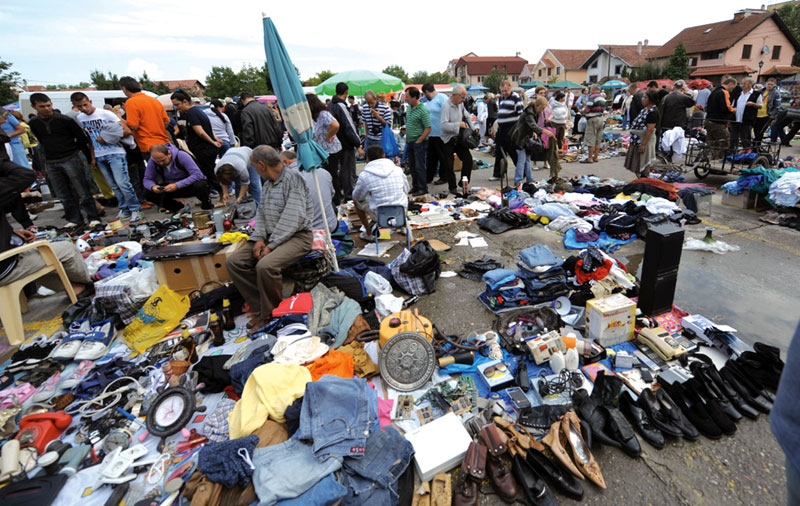 IBNA Special Report
Skopje, September 11, 2014/Independent Balkan News Agency
By Naser Pajaziti
Ministry of Interior has launched an operation today in Skopje for the removal of ambulant vendors in the large market of the capital, called "Bit Pazar". But, this intervention has sparked the reaction of vendors, who have clashed with police and strongly reacted against this police operation.
In spite of these reactions, police has accompanied to the station the majority of vendors, who are mainly from the Albanian community and poor.
Spokesman of the Ministry of Interior, Ivo Kotevski said that the operation has been carried out upon the request of work and social policies inspectorates and that it's in compliance with the law.
"Everything was done in compliance with the law in order to eliminate informal economy, which is still present", said Kotevski.
But, vendors say that this operation is an attempt to deprive them of their daily bread.
"We have been here for many years and we try to earn in order to survive, while they want to take this. There's no work or perspective. How are we supposed to feed our families? This is our only solution", says Asan Izairi, an ambulant vendor.
The majority of these vendors say that they will not withdraw, because there have nowhere to go. Some of them say that this is their only solution.
Informal economy is flourishing in FYROM, although the authorities of the country have taken measures to tackle it and stimulate other forms for the legalization of new businesses.
Ministry of Economy, Labor and Social Policies introduced a while ago an action plan to fight informal economy, which dominates industry and tourism too.
Economy experts have declared that informal economy is what maintains social stability in FYROM, at a time when the conditions for survival are harsh and citizens being paid minimum wages barely enough to feed their families.
"This is a form of survival, because in order to open a small business, it's risky due to unfair competition and high taxes. But, another important factor relates to the fact that penalties for businesses are high. These and other conditions force many people to shut down legal businesses and pass onto informality", says expert of social issues, Metush Sulejmani.
According to  him, the state must also provide the necessary conditions for this poor social category.
According to the Office of Statistics, at the start of 2014, informal economy in FYROM amounted to 30% of GDP, while this percentage in Bulgaria is 31,2%.
On the other hand, the value of informal economy in FYROM is 2 billion Euros. /ibna/