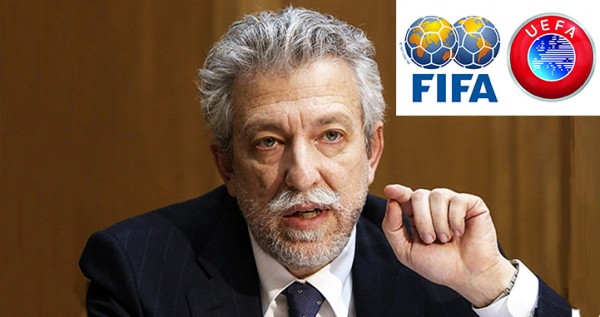 Athens, April 6, 2016/Independent Balkan News Agency
By Zacharias Petrou
The world's governing body of football, FIFA, has given the Greek government a matter of days to avoid Greek football teams being banned from international competitions.
A letter arrived at the Greek Football Federation (EPO) on Tuesday in which FIFA said the government must take back a decision by Greek Deputy Minister for Sport, Stavros Kontonis, to cancel this season's Greek Cup competition.
The letter was addressed to the Sports Ministry too as FIFA warned a decision to resume the Greek Cup must be made by April 15. If the country fails to comply EPO will see its FIFA membership suspended, meaning Greek clubs and the national sides will not be allowed to participate in international games.
Stavros Kontonis is expected to reply to the ultimatum over the next few days. The minister decided to scrap the Greek Cup for this season in early March following crowd violence in a semi-final match between PAOK and Olympiacos at Toumba Stadium.
Since then Kontonis has attempted to gather the owners of Greece's most powerful clubs – Olympiacos, Panathinaikos, PAOK and AEK – around a table to discuss the future of the game and find a permanent solution to violence maring the sport.
Having seen these attempts fail, Kontonis appears determined not to back down from his decision. Prime Minister Alexis Tsipras tweeted last week that he fully supports the minister's moves and Greek football stakeholders will have to accept the game will be cleaned up or face consequences.
On its part, the Greek Football Federation – whose chairman Giorgos Girtzikis is at odds with Kontonis – has appealed to the Greek Council of State in order for the Greek Cup to resume. The top Greek Court has not been able to rule on the issue due to lawyers being on strike. A hearing has been rescheduled for April 19. FIFA, however, says in its letter that any decision would be irrelevant as it is not connected to the governing body's requirements.
The world's governing body of football has deemed that the Greek Sports Minister is intervening in the management of EPO which defied FIFA rules. Stavros Kontonis introduced a Law governing sport which grants powers to the State to decide on football issues. In May 2015 the Law was amended at the last minute before being tabled in parliament in order for Greek teams to avoid expulsion from FIFA and UEFA competitions.