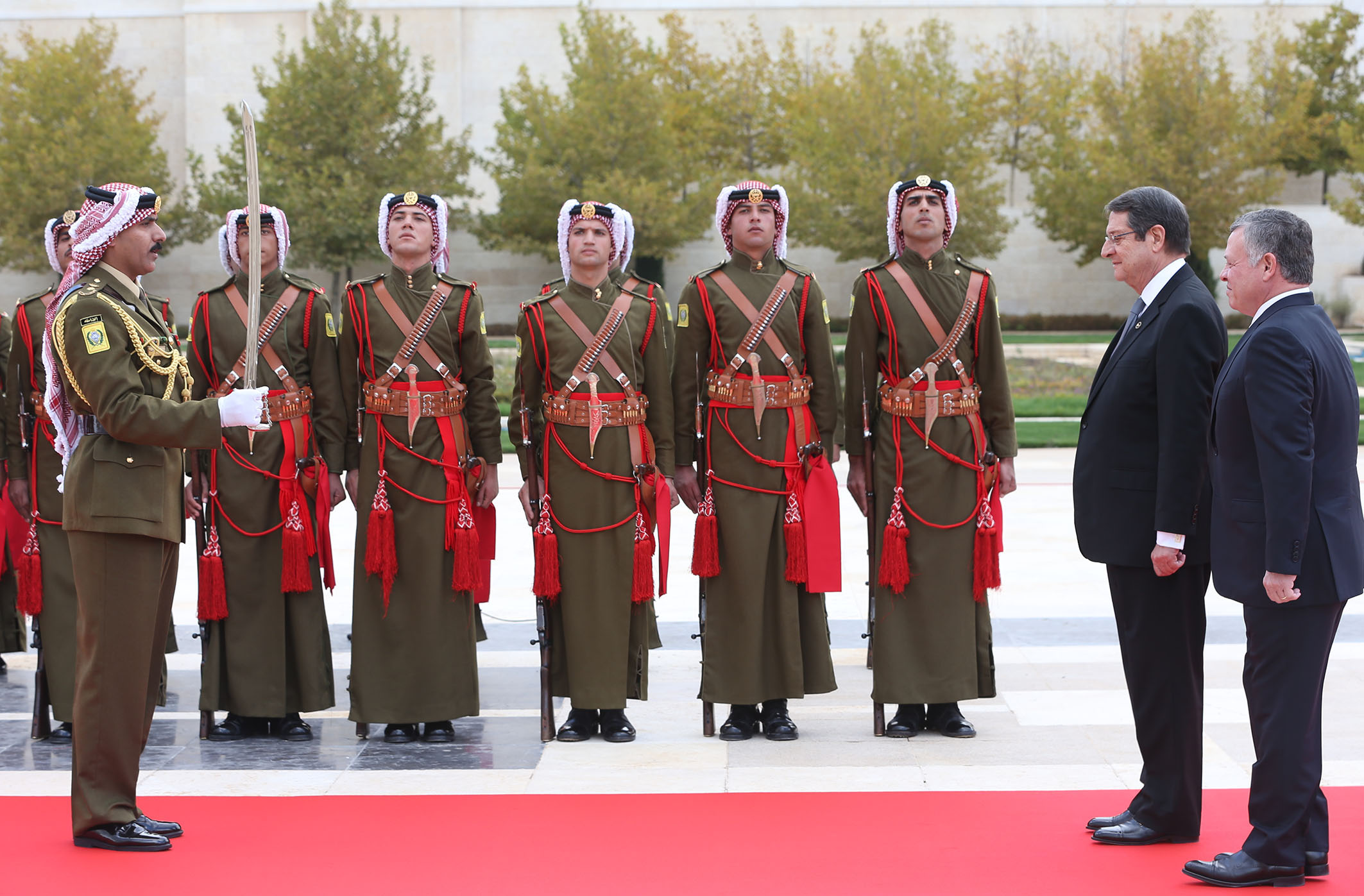 Nicosia, November 11, 2015/Independent Balkan News Agency
By Kyriacos Kyriacou
King Abdullah II of Jordan appeared positive as far as his country`s participation in ad hoc regional cooperation is concerned in order to address specific problems, during his meeting on Wednesday with Cyprus President Nicos Anastasiades, in Amman.
The Monarch also indicated six fields of cooperation with Nicosia.
According to CNA sources, the two sides discussed the refugee crisis and the role which the EU can play in the region. President Anastasiades informed the King that he will donate 50,000 euro for the relief of refugees in camps in Jordan.
As regards the Cyprus problem, the President thanked the King for the position of principle and the support of Jordan, while the King assured the Cypriot side that there is no change in Amman`s policy on Cyprus.
During the meeting, the King referred to Jordan`s "family ties" with Cyprus, noting that it is an EU member state with a good knowledge and understanding of the situation in the wider region.
He said that the problems of the region cannot be solved by one state alone and that regional and world cooperation is needed. In this framework, he appeared positive to cooperation among states, targeting specific problems.
On his part, Anastasiades assured King Abdullah that during the informal European Council in Malta he will put forward, on Thursday, the need to help Jordan address the refugee crisis. Nicosia, according to the same sources, recognizes the stabilizing role which Amman plays in the region and will highlight the issue of providing financial aid to the country to address the refugee crisis. A similar request will also be submitted by Cyprus for Lebanon.
During their meeting, King Abdullah referred to six specific fields in which cooperation with Cyprus can advance. These include tourism, energy, water, investments, the opening of an Embassy of Jordan in Cyprus and broader cooperation in the region.
As regards tourism, he said that there can be joint packages to attract tourists in the area, and particularly tourists from India, China and Japan.
With regard to the energy sector, Amman has expressed interest in buying natural gas from Cyprus and discussions are expected to begin on a technocratic level. The Jordanian Minister of Energy is expected to visit Cyprus.
As regards investments, the King referred to existing opportunities both for Jordanian businessmen in Cyprus and for Cypriots in Jordan and said that the right framework must be promoted.
The two countries concluded during the last six months of 2012 a free trade agreement, however this has not been implemented yet.
The Jordanian embassy is expected to open at the beginning of 2016, something which King Abdullah believes is important for bilateral relations.