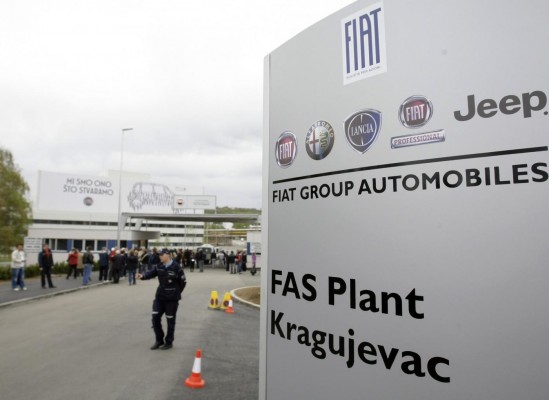 After being on strike for 17 days, Fiat workers got back to their jobs in Kragujevac factory this morning. On Tuesday, at the meeting with the prime minister Ana Brnabic, trade union leaders accepted the government appeals to stop the strike and start negotiations with Fiat managers. In the meantime, the management of the company "Fiat Chrysler Automobiles Serbia" arrived at the government building in Belgrade to start talks with Brnabic and economy minister Goran Knezevic.
"Getting back to work was not a defeat, but rather a chance to get employees' demands fulfilled through talks", said Zoran Markovic, the president of the strike committee. The objective of the workers are improving working conditions and introducing higher salaries, he stressed adding that PM has promised that "she will be with us, we are on the same side, while Fiat should abide by the law".
Brnabic said that the government will do its best to assist and thanked to Fiat management, Radio-television of Serbia reported. She praised Fiat managers for their readiness to talk with the government which is the minority owner of the factory. "I have been asking them (managers) to be patient until we see what to do, because Fiat is important for Serbia, for these workers, for the government…", Brnabic explained.
Employees demand higher salaries – to reach approximately 410 euros – the introduction of the efficiency bonuses that exist in other Fiat factories, the reorganization of the working process and the reimbursing of the transportation costs.
Serbian government as Fiat PR
"The government has involved itself in resolving the situation in Fiat too late. And when it finally did it, it acted in an scandalous way. They (government representatives) all acted as the agents of the foreign investor, as Fiat's public relations officers rather than the representatives of the workers", Djordje Vukadinovic, a member of Parliament, said. Vukadinovic told N1 TV that the government will have to help the employees. "You can check how high are the salaries for the same job in Poland, for the workers with the same qualifications… The government tries to accuse workers of the possible closing of the factory which is very ugly", Vukadinovic concluded./IBNA