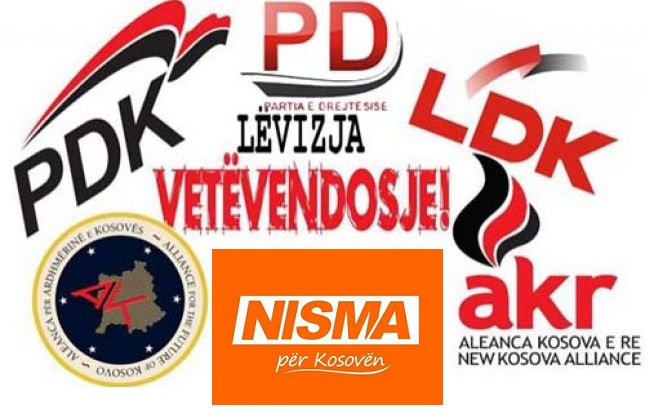 IBNA Special Report
Pristina, May 12, 2014/Independent Balkan News Agency
By Elton Tota
The "transfer window" of politicians is very active in Kosovo ahead of the elections. The political scene resembles to the big and expensive transfers of football stars.
Some politicians are abandoning their parties, while some representatives of civil society are joining politics, considering it as a very lucrative business.
Every day, the media reports departures and adherence in order to give the impression of a victory among Kosovar voters, reports IBNA news agency correspondent in Kosovo.
The prominent activist of civil society, head of Organization for Democracy and Anti-Corruption "Rise", Avni Zogiani, joined in the recent days Self Determination Movement.
Zogiani believes that Self Determination alone can resolve Kosovo's constant problems.
Besides him, Ilir Deda, head of KIPRED organization, also decided to swim political waters.
He officially joined Self Determination with the hope that this political subject alone can make Kosovo a sovereign state with a responsible government.
Meanwhile, there are also transfers of politicians from one political party, to another.
One of the most importance adherences of the recent days is that of analyst Bardhyl Metaj and that of professor Valon Murtezaj, who joined LDK (Democratic League of Kosovo, the biggest opposition party). Another surprising transfer was that of former MP, Ramiz Kelmendi from AAK (Alliance for the Future of Kosovo of former prime minister Ramush Haradinaj) to PDK (Democratic Party of Kosovo, the current governing party).
Among the other transfers of distinguished people is also that of the independent analyst, Muhamet Kelmendi, who joined Ramush Haradinaj's party.
Meanwhile, Naim Maloku, who has been former senior official of Alliance for the Future of Kosovo, is now part of the New Kosovo Alliance of Behxhet Pacolli, businessman, billionaire and current deputy prime minister.
Meanwhile, prime minister Thaci's party has been joined in the recent days by analysts Ardian Arifaj and Ramadan Iljazi.
Analyst and journalist, Shkelzen Dakaj told IBNA that the latest adherences may leave Kosovo without a civil society.
"It's painful. The most active members of civil society are joining political parties in Kosovo. This is not good news, because civil society is one of the most important parts of a democratic society. This is more important in circumstances of a society in transition, such as Kosovo, where its institutions are not yet consolidated or democratic system hasn't yet created the balances of power", says Dakaj.
Professor of law and expert of political developments in Kosovo, Berat Aqifi told IBNA that political parties must pay more attention to the political education of their members.
According to him, this can be achieved through the creation of internal institutes, which, according to him, will not only prepare new people to race in the elections, but they would also guarantee members who believe on the values and ideology of the party.
Meanwhile, journalist and prominent Kosovo analyst, Halil Matoshi says that the new adherences in political parties are good for the political scene.
He says that the perception of political parties is that voters are looking for changes and these changes can be done through new individuals, who want to create a new image for the party.
"I see these adherences with positivity, although I don't know if they will preserve their critical convictions and will inject their new political mentality where they go or if it will  fuse with the old mentality of the party", says Matoshi. /ibna/