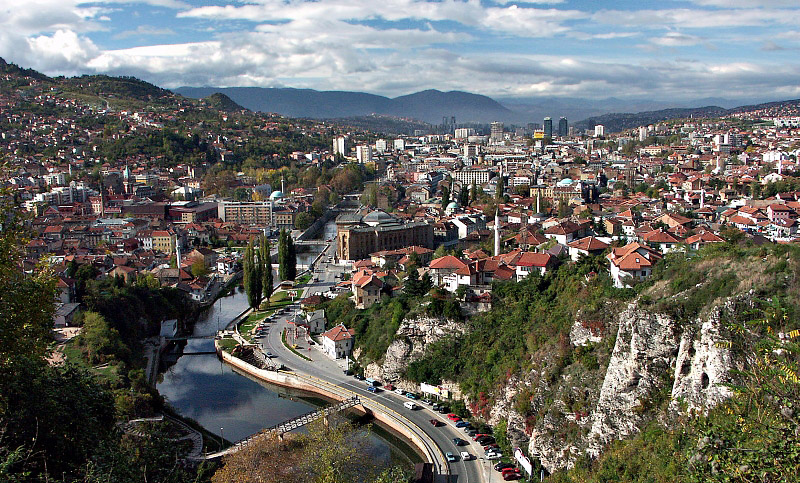 By Medina Malagić – Sarajevo
From 22-28 April, a festival called "Der Himmel Uber Deutschland" (The Sky Over Germany) will take place at "Kino Meeting Point" in Sarajevo. A film screening will take place every night starting at 20:00 for the duration of the festival.
This festival has been created with the joint cooperation of Goethe-Institute of BiH, Sarajevo School of Science and Technology, and film.factory of BiH, which was formed by one of the most world-renowned filmmakers Bela Tarr together with leading international artists.
In contrast to the German film week that took place recently in BiH, this program will screen movies that showcase the most important epochs of German film history.
The public will have the opportunity to listen to Ulrich Gregor present each movie before it is shown. Gregor is the Director of Berlinale Forum and a leading German film historian. He chose all the movies that will be screened for this festival.
"This short program represents a cross-section of the most important eras of German film history. The program is composed of masterpieces that are representative of a particular style, a chapter of film history or a reflection of a particular epoch in German film history", said Gregor, highlighting the importance of this festival in portraying a rich period of German films and how the films would underline particular styles that highlighted each period.
The films that will be shown during the festival are: Das Cabinet der Dr. Caligari (1920), Nosferatu, Eine Symphonie des Grauens (1922), Berlin die Sinfonie der Grosstadt/Berlin (1927), Die Morder Sind Unter Uns (1946), In Jenen Tagen (1947), Die Ehe Der Maria Braun (1970), and Der Himmel Uber Berlin (1987).
The start of the festival will show a well-known film directed by Robert Wiene in 1920, a silent mystery/horror film that evokes images of nightmares. Nosferatu is also a horror movie that, through the use of aesthetics, demonstrates a sublimated vision of horror with an element of mystery and danger that tears under the surface of what is observed in everyday reality.
"Berlin die Sinfonie der Grosstadt" is a film that conveys the realism that characterized the German film industry during the early 1930's. In addition, this film has become a model for later documentaries.
The changes in German the social fabric of German and the turbulent political period can be seen in the movies "Die Morder Sind Unter Uns" and "In Jenen Tagen". Both films portray how German cinematography altered immediately following the end of the Nazi regime and World War II, where Germany was left in ruins.
The following two movies that will be shown at the festival highlight the period of transition several decades after the end of World War II. In "Die Ehe Der Maria Braun", a more confrontational approach is taken, where themes of dealing with the past and the question of identity is tackled. The final film is by well-known Director Wim Wenders called "Der Himmel Uber Deutschland", directed in 1987. It shows a Berlin that is still divided by the Berlin Wall, which uses fantasy and dreams interwoven within the story that evokes a multitude of perspectives, ideas and feelings among viewers. Berlin does not possess the beauty and old world charm as a city like Paris does. Rather, the film shows a Berlin after WWII that was reconstructed and characterized by modernism and industrialism and vast diversity, which in its own distinctive way underlies inspirational, mesmerizing and fascinating themes with a look at everyday life in Berlin during this time.
All films are in German with English subtitles.