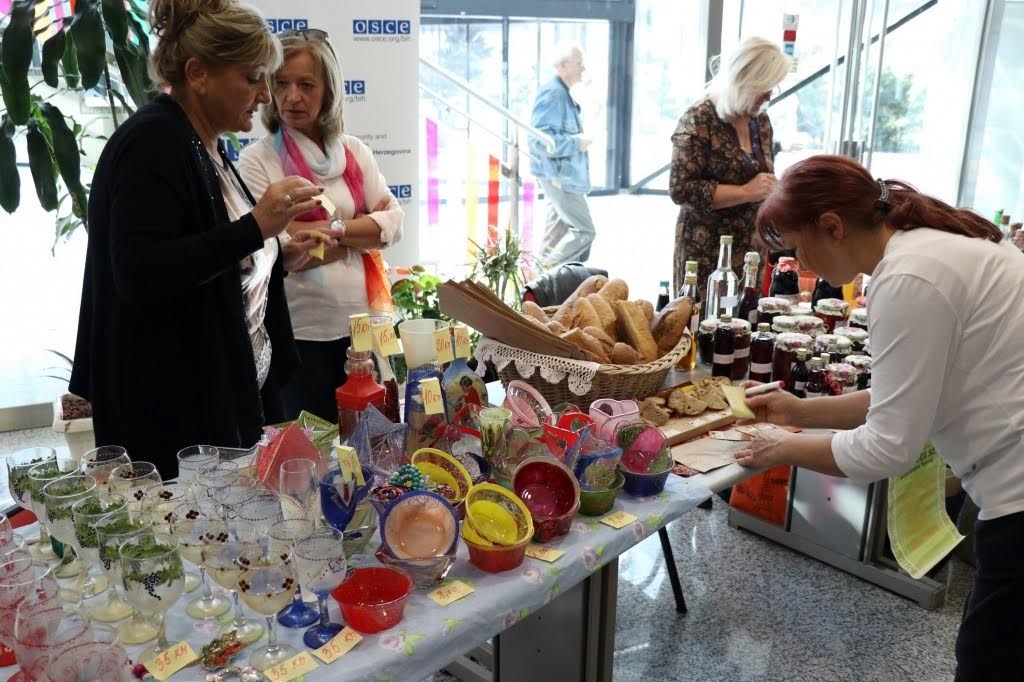 The Regional Association of Women Entrepreneurs, in co-operation with the OSCE Mission to Bosnia and Herzegovina, organised the Women's Entrepreneurship Fair, in the capital Sarajevo, on Wednesday.
The fair gathered 30 female participants from Sarajevo and Istočno Sarajevo with the aim of empowering women entrepreneurs, strengthening their co-operation, and promoting their products and businesses. Roksanda Mičić, president of the Association "Wake Up" from East Sarajevo, said that they have about 80 members and are engaged in various activities.
"At the fair we presented two sections. One is 'Buy homemade (goods), eat healthy' and the other is the 'Creative corner'. These two sections are based on agricultural products, processing of fruits and vegetables and the production of various handicrafts. In the case of agricultural products, it is very important that they are produced in a traditional way, without using pesticides. They can then take pride in having produced organic fruits and vegetables", said Mičić.
Speaking about handmade products, Mičić said that members of the Association deal with producing various goods, mostly the traditional way. Some of them are knitting, embroidery, crochet, weaving. In addition, they have adopted some new creative methods of making stuff such as decoupage, recycling of certain materials, processing and woodworking. Others do art painting and produce organic soap.
Dženita Zirdum, president of the Regional Business Association "Business Woman" said that one mission (among others) of this association has been to empower women and help them register their businesses.
"The main problem that occurs in women's entrepreneurship at this level is that they cannot register their businesses. It also means that they cannot get a bank loan because all assets belong to someone else's business. Women at this stage -when they have their products ready, but are not yet marketed- need support. That is exactly why we have offered it to them", Zirdum explained.
She added that a large number of women are on waiting lists for other job posts, but those who accept employment in entrepreneurship do not wait, but instead are dealing with actual work and tangible, short cut solutions.
"As part of this event, a group of successful female entrepreneurs will offer their insights into what it takes to launch, sustain and grow a small business. We hope to improve the links between women-led businesses in the area, to connect them with potential markets, and to promote their impressive collection of products and services", said Bruce G. Berton, Head of the OSCE Mission to BiH…. / ΙΒΝΑ