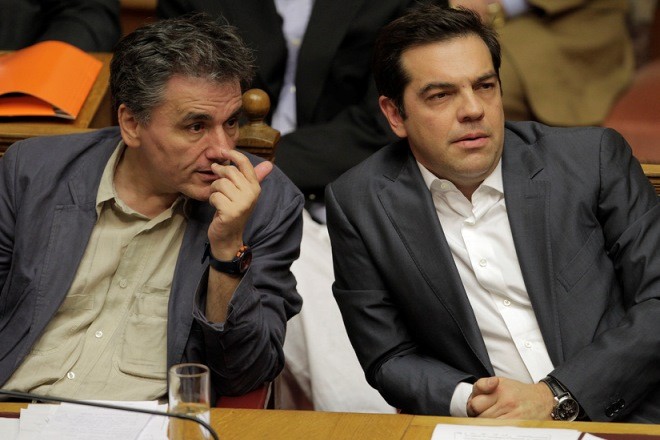 Athens, February 8, 2016/Independent Balkan News Agency
By Zacharias Petrou
Rumors emerged on Monday that the quadriga of Greece's creditors could return to Athens after February 18 – the initial plan was for them to return by Feb. 15 – meaning the completion of the Greek bailout review could be significantly delayed.
Government sources believe the creditors are deliberately time-wasting in order to get the Greek government to propose the tough austerity measures desired by the quadriga by itself.
Talks, however, continue between the two sides based on the list of outstanding actions the creditors have delivered to Athens.
The February 11 Eurogroup meeting is considered key to developments, in which it will be made clear if creditors want a swift completion of the review or not, according to Greek government sources.
The Greek PM could try to politicize the negotiations with creditors. Alexis Tsipras appears keen on holding talks with French president Francois Hollande in order to ask for help in his effort to get the Greek bailout review concluded swiftly.
Rising social protests to the Greek social security reform plan and fear of political instability as talks with creditors are not progressing smoothly for the government, have alarmed the Greek PM who is now counting on a political solution, according to local reports.
Tsipras's intention is to persuade European leaders to make the quadriga more lenient in its demands and not pressure the Greek government to adopt additional tough measures, especially the cutting of main pensions.
Ahead of Thursday's Eurogroup meeting, the Prime Minister will hold a series of important meetings in order to shape the government's strategy.
Alexis Tsipras is being advised by some to call an early election if creditors continue to be tough in their demands for additional austerity measures and painful pension cuts.
Election talk has been further boosted by an interview by Defense Minister Panos Kammenos with Greek newspaper Real News in which he warned that the government will go to the people if there are irrational demands made by creditors.
However, other advisors close to the Prime Minister believe the government should seek to swiftly complete the program review and adopt any harsh measures quickly in order to put behind it the tough negotiation.
On Monday evening, a top government official, speaking from Tehran, Iran where the Prime Minister is on an official visit, ruled out the possibility of an early election.
"Are you serious? We can't have elections every three months" the official said.
Earlier, Finance Minister Euclid Tsakalotos briefed the Financial Committee of the Parliament about the developments in the first round of talks with creditors.
"The review must be completed by the end of February. If it drags on to May or June we're… in trouble" the minister said. Tsakalotos did add, however, that he expected the top-level members of the quadriga to return to Athens sometime next week.