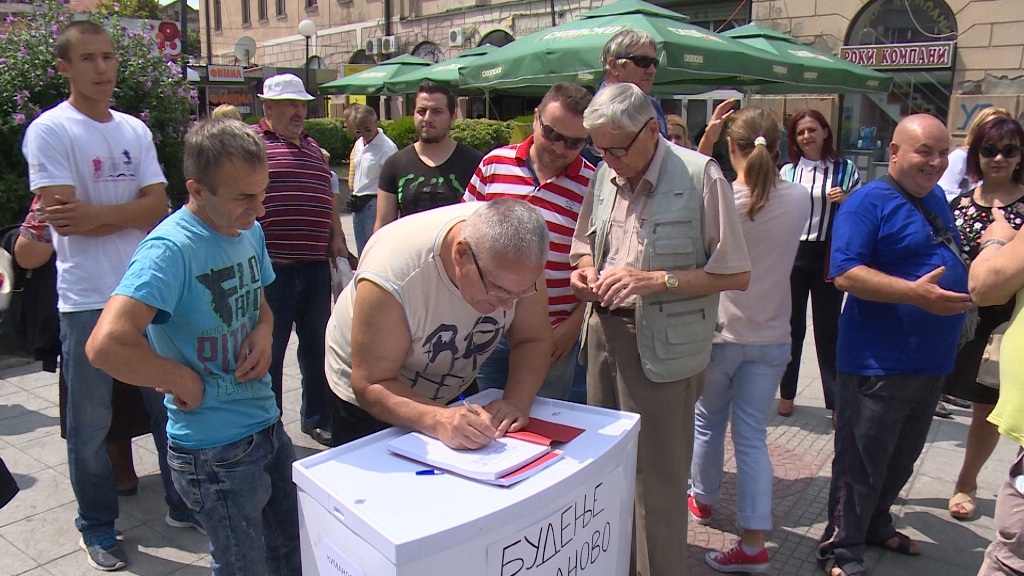 Signatures are being collected in several communes of Skopje against the construction of refugee camps in the country.
The warning that camps will be built for refugees has been given by the largest opposition party, VMRO-DPMNE, while the new social democrat government has denied it.
Lupco S, a citizen who has signed against the construction of camps, while saying that he doesn't trust the new government.
"I gave my signature against the arrival of these refugees here and in order to protect our children. We will not allow anyone to come here", Lupco says.
The mayor of Karpos, Stevco Jakimovski has declared in a posting in Facebook that he's against the construction of these camps, saying that refugees from the Middle East must be welcomed by countries bombarding them, such as the US and Russia.
"Macedonia is not a country that bombs or participates in the bombing of Syria and for this reason, we're not obliged to welcome refugees. Let the USA and Russia welcome them. We cannot accept refugees in Karpos", Jakimovski writes.
Last month, VMRO-DPMNE gave the alarm that in case of a new wave of refugees, then the government will build camps to welcome them.
"The government has requested 100 locations to start the construction of camps throughout the country. We call on the government to suspend this plan in the best interest of the country", VMRO-DPMNE declared.
Meanwhile, the government has denied such plans.
"No accommodation facilities for refugees will be built. For the moment, we have allocated no funds for such thing. The opposition is trying to spread panic", said the minister of Labor and Social Policies, Mila Carovska.
In 2015 and 2016, the government of FYROM was hit by a wave of refugees, but only as a transit country. Meanwhile, only 60 refugees have remained in the refugee centers of Tabanoc and Gevgelija. /balkaneu.com/