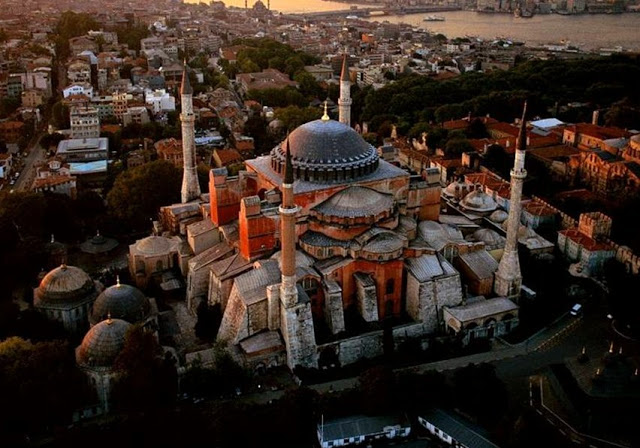 By Manolis Kostidis –
The transformation of two historical churches of Hagia Sophia from museums to mosques, in Nicaea and Trabzon followed fears expressed by several priests of the Orthodox Ecumenical Patriarchate that certain lobbies in Turkey, demand the same transformation to apply even in Istanbul's historical church.
According to daily newspaper "Hürriyet", this situation has already raised a lot of reactions from the Patriarchate. "There are nowadays signs that indicate certain groups attempting to switch the public opinion that the temple of Hagia Sophia in Istanbul, the symbol of the Christian faith, must be transformed into a mosque", a priest said to "Hürriyet".
The temple of Hagia Sophia in Istanbul, which is considered one of the most important structures of the UNESCO's cultural legacy, between the period 1453-1930 was operating as a mosque. By order of Kemal Ataturk it was transformed into a museum and has been operating by the same status since 1934.
A Turkish citizen had issued a request to the Turkish National Assembly in May, asking the change of this status to what it was before 1934, so this why there is a lot of concern about a potential surprise move by the government.
Last month, the Ecumenical Patriarchate criticized heavily on an article, which was published in the official magazine of the Turkish Airlines "Skylife", and had as title "Hagia Sophia: The Sultans' Mosque", and was referring to the museum's recall in its former "spiritual aura" as a mosque. "The selective presentation of the true story about Hagia Sophia, a story that metamorphosed nations and civilizations, is inadmissible", the Patriarchate's official statement wrote.
Hagia Sophia in Trabzon has already transformed into a mosque
Last July, the church of Hagia Sophia in Trabzon, operated for the first time as a mosque! For 52 years, this temple has been operating as a museums and this way is now even a prayer room for Muslims.
During the prayer, the byzantine murals were covered by curtains, as in Islam all images are forbidden. A total of 50 pilgrims had gathered that day.
However, according to Muslims' statements who spoke to "Hürriyet", the real intentions seem clear. "Hagia Sophia of Trabzon gained its freedom [as a mosque]. I believe that same goes even for Hagia Sophia in Istanbul", a citizen of Trabzon said.
The temple of Hagia Sophia in Trabzon was built by Emperor Manuel I between 1238-1263 A.D., who used as a model the church of Hagia Sophia in Istanbul, and is decorated with magnificent murals and mosaics, flawless examples of art during his era.
It was later transformed into a mosque, so the mosaics were covered with plaster. In 1960 the Turkish government decided the mosque's transformation into a museum.
Orthodox Ecumenical Patriarch, Bartholomew, expressed his total disagreement over the potential of Hagia Sophia in Trabzon operating as a Muslim mosque. «If Hagia Sophia opens for prayer, it will offer service only to our Muslim brothers. But if it continues to operate as a museum, it will offer service to all foreigners as well as to all tourists visiting Trabzon, the Black Sea and Turkey in general. Furthermore, there will be an income for the local population which will contribute to the local tourism's development. From this point of view, I state clearly that we think it should continue to operate as a museum", Bartholomew noted.