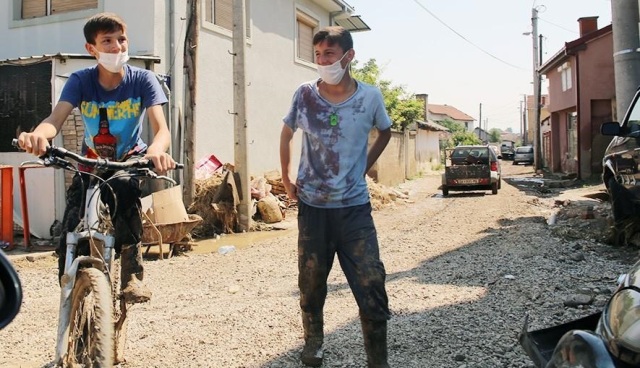 Skopje, 17 August 2016 /Independent Balkan News Agency
By Naser Pajaziti
The residents of flooded areas in Skopje are concerned about the potential epidemic outbreak after the recent occurrences when 22 people, among them children, lost their life and many others were injured. The inhabitants say the state measures to prevent the potential diseases outbreak are insufficient. They complain the disinfection process is very slow. The residents of the largest Skopje district  "Hasanbeg" say that several houses are left polluted.
"The stench is unbearable. We can't stay even in the yards. We sent away the children because they risk to get infected by an outbreak. The houses have been cleaned by volunteers and until now we haven't received help from state", says Bekim, district resident.
The Public Health Center declares that the majority of the houses have been disinfected.  "We have disinfected over 17 million meters square, yards, roads, house, ambulances, basements of flooded clinics" , said Luljeta Imeri, epidemiologist at Public Health Center.
Meanwhile many people are facing the floods aftermath. They are in continuous need of medical assistance.
Besir Murtezani, a doctor at Skopje hospital says that every day up to 70 patients are admitted to the hospital due to health problems caused by the contamination and the stench in the flooded areas where they reside.
"Until now, we have examined over 350 citizens who have received medical assistance under our supervision. Patients' afflux is 60 to 70 people per day", he added.
Murtezai says that the contamination in the afflicted areas may cause huge damages in the residents' health. Several Skopje medical teams are deployed in 12 flooded areas, which provide medical assistance to the residents.
Meanwhile continues the search for the missing people. According to the Emergency Committee one child has been missing, but other persons may have been lost as well.
Earlier, the government and the parliament voted the decision for the compensation of the residents in flooded areas where 22 people lost their lives. More than 5000 houses and other facilities from 12 inhabited areas in Skopje outskirts were flooded two weeks ago. Many arable lands and part of Skopje highway were damaged. /balkaneu.com