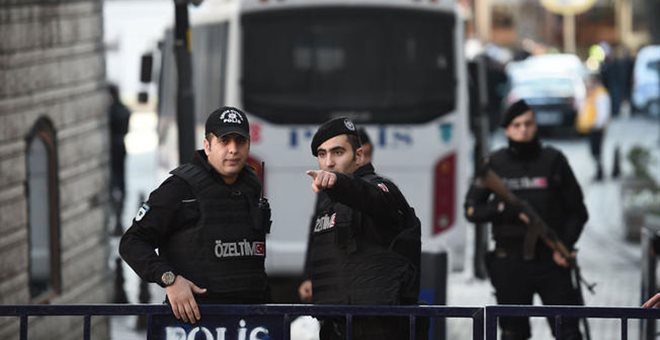 Ankara, March 20, 2016/Independent Balkan News Agency
By Manolis Kostidis
Police forces in Turkey are on high alert after the terrorist attack that occurred on Saturday morning in Istanbul, which resulted in 5 deaths and 36 wounded. The suicide bomber was reportedly a member of the Islamic State, with Turkey facing a serious threat. Among the victims are three Israelis and one Iranian.
On January 12, 2016, jihadists suicide bombers had struck again in Istanbul near Sultanahmet Square, killing 12 German tourists.
This attack was followed by two suicide attackes of the Kurdish organization TAK in Ankara. The first terrorist attack occurred on February 17, killing 29 people and injured 61 and the second on March 13 that killed 37 people and injured 125.
A document that was sent in early February by the Ministry of Interior to all police stations highlighted the fact there are 10 aspiring suicide bombers in Turkey likely to hit targets and warned of hits. The Turkish government after February 17 had announced that it would take exceptional measures in different cities.
What's interesting is that on Thursday and Friday the German consulate in Istanbul, as well as the German School had stopped their operations due to "terrorist threat". The prefecture of Istanbul had indirectly accused the German authorities for their attitude as they emphasized that public safety is ensured by the information of the Turkish authorities.
The US embassy Friday warned US citizens to be cautious and spoke of the probability terrorist attack in Ankara, Izmir and Istanbul between March 18 and 22!
The tourism of Turkey has taken a huge blow, with tourists leaving the hotels and cancelations of future reservations.
Ahmet Davutoğlu, who called an emergency meeting after the terrorist attack, said that Turkey will continue to fight terrorists and asked the Turkish people to remain united.
Analysts express their concern that Turkey is taking terrorist attacks from many different terrorist organizations.