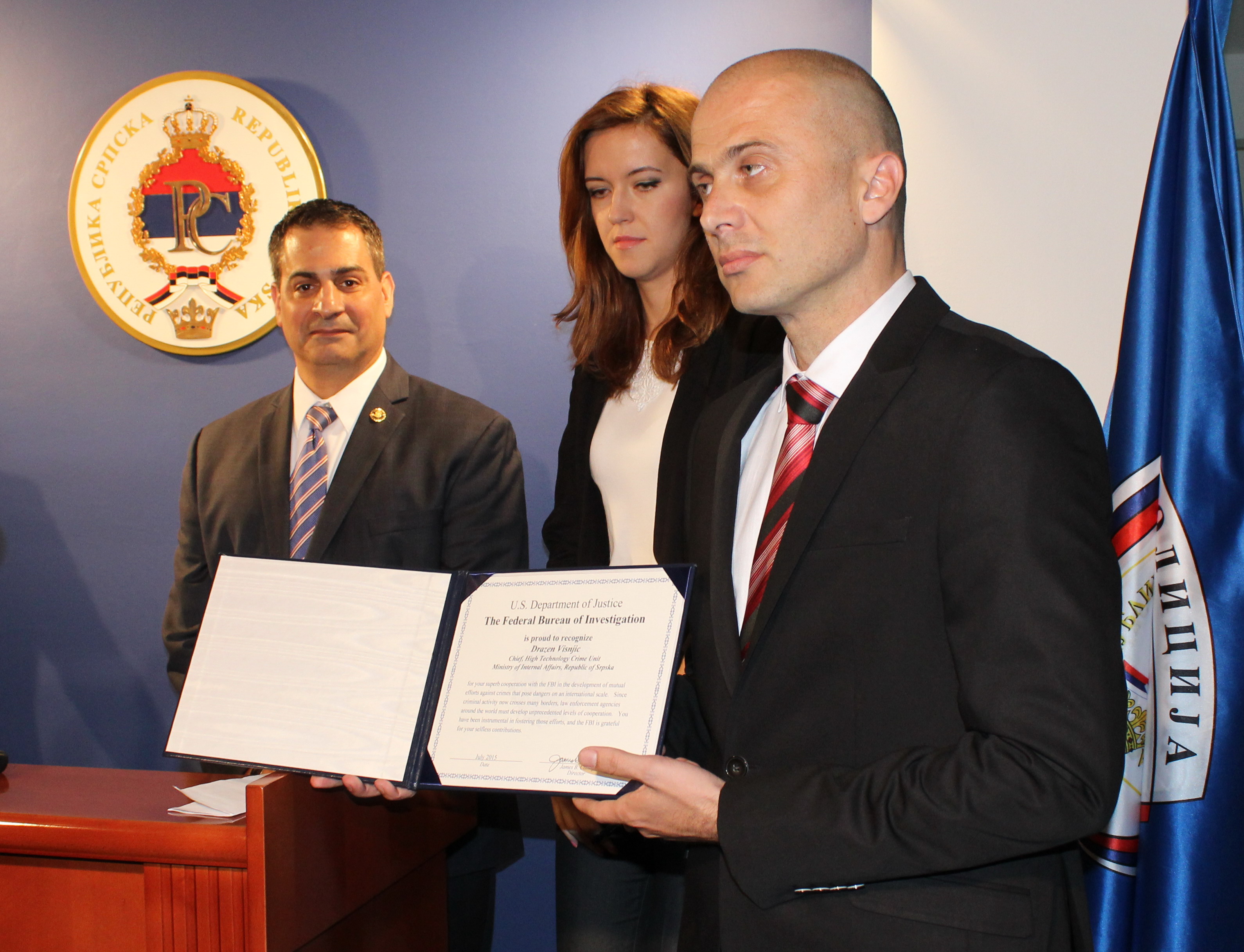 Banja Luka, May 26, 2016/Independent Balkan News Agency
By Mladen Dragojlovic
Six inspectors of the Department for the fight against High-Tech Crime in the RS Ministry of Interior received on Thursday's awards from director of the US Federal Bureau of Investigation.
The director of FBI awarded them for, as it was said on the ceremony in Banja Luka, successful cooperation and contribution to international actions aimed to prevent cybercrime.
RS Minister of interior, Dragan Lukac, said on the ceremony that this recognition is very important not only for the police but for the whole ministry, which is proud of its long-term cooperation with the FBI.
"We have good police officers, experts in cyber crime. The FBI has recognized this and therefore intensively cooperate in the fight against cyber crime at the global level", Lukac said after the meeting with the FBI delegation.
The head of this important delegation, John Bivona, said that the criminal activities today are not limited to borders between countries and pass over them very easy. As he said, that is why agencies must cooperate on the highest level.
"Nobody is supposed to fight the high-tech crime alone. It must be coordinated cooperation that will guarantee success", Bivona said.
He emphasized that RS Department for fight against this kind of crime made a major contribution to these efforts, Bivona said, adding that FBI and RS Ministry of Interior also have good cooperation in other operations.
The head of RS Department, Drazen Visnjic, said that in the past there were several significant operations. As an example of good cooperation, he noted one of last year's major international operations, "Port Royal", which resulted in the arrest of dozens of criminals.
"We investigate and prosecute criminals from our area who commit crimes in our country and abroad. Also we investigate  foreign criminals who commit crimes in RS and criminals who, using the infrastructure of our country commit crimes in a third country", Visnjic said.
The RS Department was established 2010 and since that time it has contributed in many international operations against this kind of crime. Visnjic said that in the operations performed on RS territory a number of persons were arrested and about a dozen of them have already been sentenced.
Photo: Mladen Dragojlovic