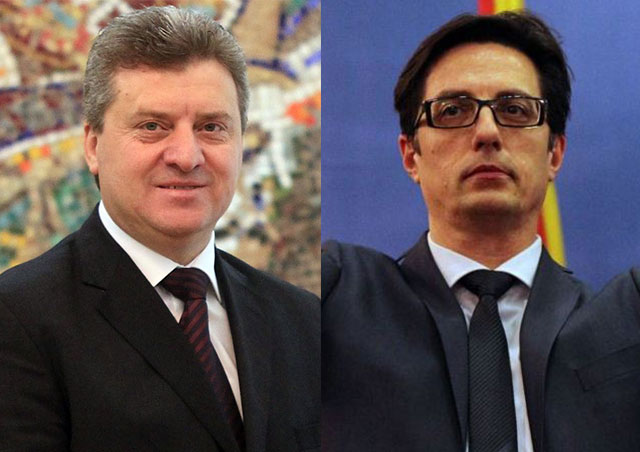 Skopje, March 12, 2014/Independent Balkan News Agency
By Naser Pajaziti
The two main candidates of the presidential elections in the former Yugoslav Republic of Macedonia are George Ivanov from VMRO-DPMNE and Stevo Pendarovski from the Social Macedonian Democratic League (LSDM).
Although they both come from the academic world as university professors, they are still different in their opinions on different issues.
Political analysts and university professors, who are their colleagues, say that there are big differences between Ivanov and Pendarovski. The main differences consist on political concepts, but also in the political behavior.
Nikola Dujoski, university professor says that Ivanov showed during his first term in office as president of the country that he was a weak personality and a president who obeyed to the party in power, VMRO-DPMNE. "He has been a president who followed the line of the government policy and never brought independent changes or criticize any decisions", says Duoski.
"On the other hand, Pendarovski showed since the very start that he's a personality less influenced by the opposition party LSDM, which ran him for president. Pendarovski is showing his intellectual autonomy and he has also manifested this during the presentation of his program", says Dujoski.
According to him, the behavior of both candidates is also examined in the aspect of their relations with the ethnic non Macedonian communities.
"Up until now, Ivanov has shown that he was not that close to ethnic groups, while Pendarovski enjoys the respect of other communities due to the fact that he considers other ethnic communities as factors", says professor Dujoski.
But, the political analyst, Naser Ziberi comments for IBNA on the personalities of the two main presidential candidates. "Ivanov is characterized by a cold approach in many issues, due to the lack of incentives and he's known to be a person that obeys to his party. He has proved that he's a member of VMRO-DPMNE, who doesn't overcome the party positioning in order to impose himself as the president of all citizens", says Ziberi.
Analyzing the opposition candidate, Ziberi says that Pendaroski seems not to be depending on the party that has proposed him for the presidential race. "Pendaroski is not under the orders of the party that proposed him. He has issued clear signals through his program as to how he perceives issues that relate to the urgent need for NATO and EU accession and the solution of the name dispute. His approach also differs in terms of the approach against other non Macedonian communities", says Naser Ziberi.
Experts and recent polls show that in these elections, people are more inclined to vote parties than the presidential candidate, as the country now has entered the pre election campaign period for the presidential elections which will be held on April 13 and parliamentary elections which will be held on April 27.
Citizens also have different opinions as far as the presidential candidates are concerned, but they do not talk a lot about their personalities.
Ivanova S, a student, who was asked by IBNA as to how she perceives the two presidential candidates, says that they have both proven themselves.
"I value both candidates, but voters will decide as to who's the best. We are waiting to see their stands in the electoral campaign and then I will decide which candidate to vote", says Ivona. A poll conducted by IBNA indicates that there are many people who do not want to openly favor one presidential candidate or another.
On the other hand, Ejup Berisha, a former member of president Ivanov's cabinet, who left this post a year ago, says that during Ivanov's term in office, there has not been a representation of Albanians in the Presidency.
"During Ivanov's term in office, Albanians have only symbolically been represented at the presidency. Out of 40 people employed at the presidential cabinet, only 2% have been Albanians. There has also been criticism over this issue, but they've been temporary and have not been heeded a lot. I hope that this will not be repeated any more", says Ejup Berisha.
The two presidential candidates have now started their meetings ahead of the official start of the electoral campaign. Ivanov has chosen rural areas in the eastern part of the country, while Pendaroski has started his meetings in urban areas, initially focusing in the old part of Skopje, where he has met craftsmen and people of different communities. /ibna/