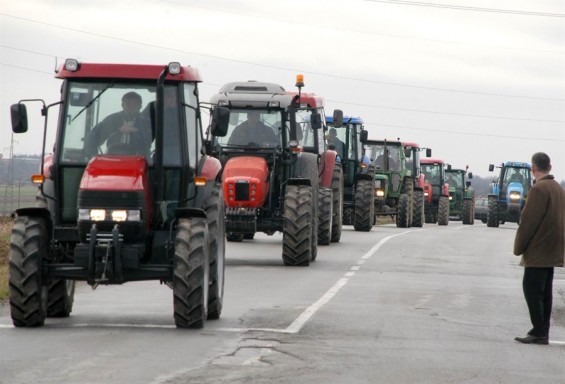 By Natasa Radic – Zagreb
Dissatisfied with the Government policy, a group of farmers have started blocking the roads in Croatia on August 8th using their tractors and saying they do not intend to give up until the government meets their demands. After a few days of protests, the enthusiasm dropped significantly so it is now the question of days when the protests will cease.
Farmers are dissatisfied with the situation in agriculture and seek payment of the remaining incentives, according to the data which were presented by their representatives, as they claim they have still have to receive 450 million kunas (65 million euros). They are also unhappy with the price of wheat of 1.05 kuna per kilogram, they believe that the price should not be less than 1.35 kuna.
The farmers seek an urgent meeting with President Ivo Josipovic and Prime Minister Zoran Milanovic.
President of the Association of Peasants of Slavonia and Baranja Antun Laslo said the farmers will continue to protest and if Prime Minister Milanovic does not receive them, they are ready to complete blockage of the roads and near the border crossings.
When asked how long they are willing to wait for the prime minister's response Laslo said he can not say exactly, but certainly not for long. He stressed that, if the farmers do not receive the answer soon, they will take the further actions. Still, the Prime Minister's response came late during the weekend saying he does not intend to meet any ultimatums.
-We are not second-class citizens but equal with the others, we are only asking for what we are entitled to. Let us provide realistic, producer prices of our products, so we will not need incentives – said Laslo.
Opposition party HDZ gave support to the farmers. Vice president of the HDZ and the Vukovar County Bozo Galic accused the Government that they have no development plans and programs for rural development and that is why the village and farmers are lead directly towards the disaster.
-Minister Tihomir Jakovina and Government have no strategic framework for the development of agriculture – said Galic adding that in such a state the farmers are forced to protest. Starting from August 14th, the police have began to charhe penalties for farmers who disable the traffic.