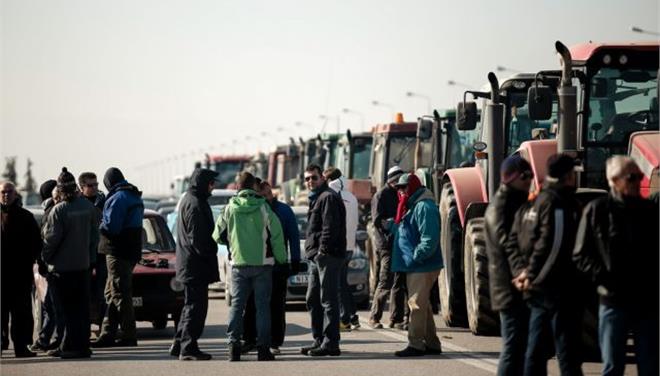 Sofia, February 5, 2016/Independent Balkan News Agency
By Clive Leviev-Sawyer of The Sofia Globe
After a week of extensive traffic disruption at the border crossings between Bulgaria and Greece, the blockade imposed by Greek farmers appeared to ease on the morning of February 5, reports in Bulgarian media said.
For a brief window of about an hour, all border checkpoints were working without any obstacles from the protesting Greek farmers, who are opposing pension reform plans by the government in Athens, which envision reducing tax breaks for farmers.
The farmers escalated their blockades earlier this week, ramping up to the February 4 general strike in the country. Before that, Greek farmers would disrupt traffic almost daily, but only for short amounts of time. Since the beginning of the week, however, the protesters would restrict the passage of cargo lorries for hours on end and later expanded their blockades to include cars and buses as well.
Overnight, the only major disruption was at the Koulata-Promachonas checkpoint, where lorries were once again prevented from crossing the border, but these were allowed to pass in the morning.
At another major crossing, Ilinden-Exochi, traffic was normal through the night and morning, but the Interior Ministry said that traffic would be shut down for most of the day on February 5. Buses and cars would be allowed to pass during a brief window between 3pm and 5pm, while lorries would not be allowed through at all.
The issue has strained relations between Sofia and Athens, with Bulgaria reportedly considering a formal complaint to the European Commission, although Foreign Minister Daniel Mitov said on February 4 that Bulgaria wanted to avoid using drastic measures to deal with the situation.
The border crossings blockade was also discussed by the two heads of government, Bulgaria's Boiko Borissov and Greece's Alexis Tsipras, during a phone call on February 2, with the Bulgarian prime minister asking his counterpart to "ensure a corridor for transit traffic", according to a Bulgarian government statement.