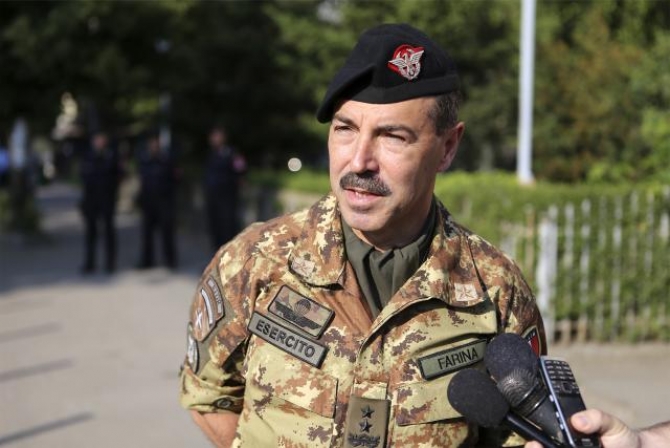 Pristina, June 9, 2014/Independent Balkan News Agency
By Elton Tota
The general commander of KFOR, general major Salvatore Farina said that the quiet atmosphere that accompanied the elections is a proof of democratic maturity.
Meanwhile, the high turnout of different ethnic groups and minorities, according to him, is a clear manifestation of the democratic spirit.
According to him, police of Kosovo has shown professionalism and efficiency in guaranteeing the necessary framework of security and the electoral process, both in the north and the south of Iber river.
"The quiet atmosphere in which the elections were held once again shows the democratic maturity and the feeling of civil obligation of the citizens of Kosovo and it shows the high level of efficiency and professionalism of the police of Kosovo. The high turnout of the citizens belonging to different ethnic groups and minorities is a clear manifestation of the democratic spirit that characterizes the citizens of this party  of the Balkan", said general Farina.
According to a press statement, KFOR will come up with a detailed plan for the deployment of multi lateral troops to back police of Kosovo and EULEX, focusing in the areas which have a high tendency of risk, especially in the north of Kosovo, where the majority of ethnic Serbis is concentrated.
With this, KFOR's aim was to guarantee a safe environment and free movements for all the citizens of Kosovo who wanted to vote freely and OSCE monitors and other international and domestic organizations, which have observed the electoral process.
KFOR commander has considered these elections as a "success story for Kosovo", an achievement for the process of normalization in the relations between Pristina and Belgrade, an example of democracy and pluralism. /ibna/