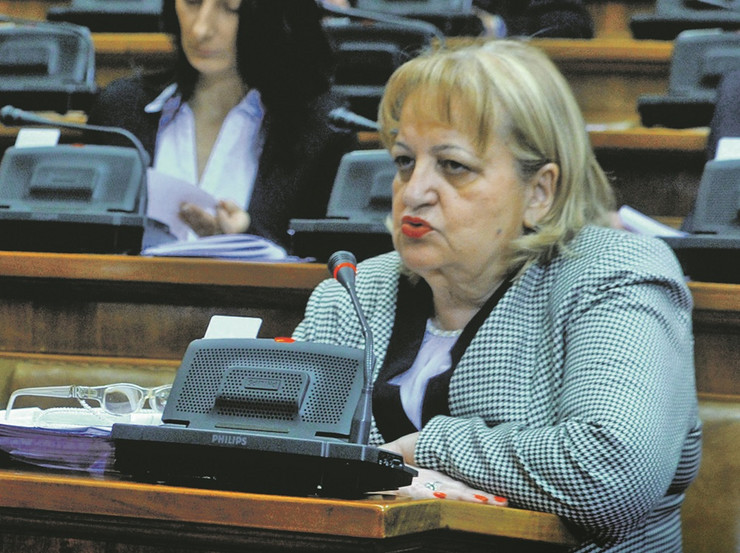 Vjerica Radeta, far right member of Serbian Assembly, has criticized the proposed document on protection of journalists and demanded the boycott of daily "Danas". Speaking at the parliament session on Wednesday, Radeta has rebuffed the respective agreement which ombudsman Zoran Pasalic has proposed to media associations.
Radeta, member of Serbian Radical Party (SRS) said that "voice should be raised" against daily Danas, adding that "this newspaper should not be bought". She claimed that Pasalic was alarmed over the recent attack of SRS leader Vojislav Seselj against Danas daily journalist Snezana Congradin.
Last week, Seselj insulted and threatened Congradin over her article on Srebrenica genocide. Radeta said that "everyone should react" on Congradin's claim, adding whether the latter was "paid by somebody to write like that".
The International Criminal Tribunal for the former Yugoslavia has determined that the 1995 massacre in Srebrenica was a genocide, in accordance with the international law. However, Serbia does not recognize the 2004 ruling. In 2010, the Serbian Parliament passed a resolution condemning the Srebrenica massacre and apologizing for Serbia not doing more to prevent the tragedy. The term genocide was not mentioned.
Seselj has proposed amending the Criminal Law in order to introduce 20 years prison sentences for all who claim that the Srebrenica massacre was genocide.
Along the same lines as Seselj, last week Radeta was talking to the majority in the parliament claiming that "Danas" writes against "people from the government, president, ministries and members of their families and nobody reacts".
SRS is in theory an opposition group, but in practice it does not criticize neither the ruling Serbian Progressive Party (SNS) nor its leader, Serbian president Aleksandar Vucic. Seselj, a convicted war criminal, and Vucic have been close allies, during the latter's political career in SRS from 1993 to 2008.
With regard to the announced introduction of the ethical code in the parliament, Radeta said that "radicals would behave like they want". She accused parliament president Maja Gojkovic for initiating the introduction of the ethical code "under pressure from abroad". Gojkovic denied foreign meddling, saying "all European countries have an ethical code and so will Serbia"./ibna