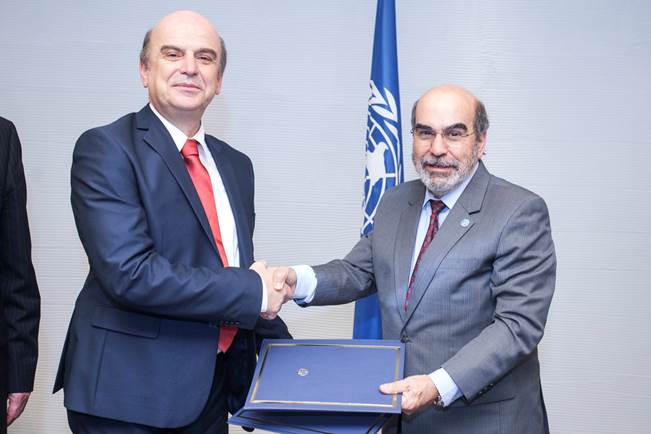 Tirana, December 1, 2014/ Independent Balkan News Agency
FAO (Food and Agriculture Organization of the United Nations) will soon establish an office in the Republic of Albania, under the terms of an agreement signed here today (photo).
The new Host Country Agreement was signed by FAO Director-General José Graziano da Silva and Edmond Panariti, Albania's Minister for Agriculture, Rural Development and Water Management.
"This is a very positive development in our working relationship with Albania," said Rodrigo de La Puerta, Directorad interim of FAO's Office for Support to Decentralization, which oversees the Organization's network of country offices.
"Having a presence in Tirana will strengthen FAO's capacity to support Albania in achieving its food, agriculture and natural resource management objectives," said Vladimir Rakhmanin, FAO Assistant Director-General and Regional Representative for Europe and Central Asia.
Food security and safety, plant and animal pests and diseases, marine fisheries, disaster risk preparedness, and developing institutional capacity for integration in the European Union are among the priority areas where FAO will be assisting Albania. A second agreement, outlining the areas of work for 2015-16, is expected to be signed in the coming weeks.
The opening of FAO's Albania office – to be housed on the premises of the Ministry of Agriculture, Rural Development and Water Management – is tentatively planned for the first quarter of 2015. /ibna/