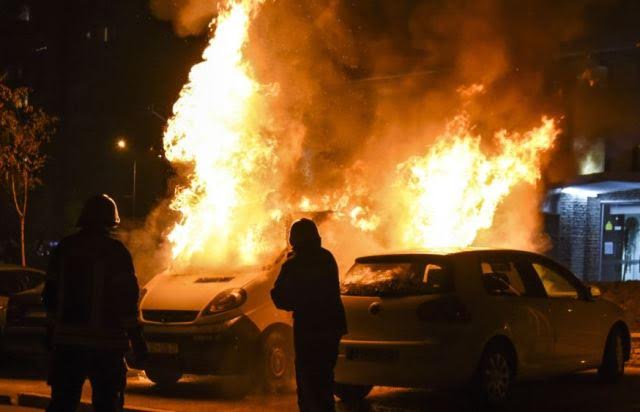 Pristina, 24 February 2016/Independent Balkan News Agency
By Arben Rama
Two acts of violence have taken place in Pristina, leading to the family cars of a minister and deputy minister to be set ablaze.
In the early hours of the morning, the car of the wife of the minister of Agriculture, Forestry and Rural Development of Kosovo, Memli Krasniqi was set in flames.
This was followed by another car being burned. The spokeswoman of the Police of Kosovo, Flora Ahmeti confirmed that "after the burning of a Passat type vehicle by unknown persons, another car, a Renault Clio was burned in Harulla Avdullahu street."
Several hours later, on Thursday afternoon, there was another fire in "Pejton" quarter, where unidentified persons burned the car of the deputy minister of Local Government of Kosovo, Bajram Gecaj.
Mr. Gecaj has confirmed the incident: "The car was parked near the British embassy in Pristina, as my wife works there," Gecaj said.
Spokeswoman of the police of Kosovo, Flora Ahmeti said that the car in question was Hyundai type vehicle, marking another case of burning the cars owned by relatives of the government of Kosovo officials within a matter of hours.
The Government of the Republic of Kosovo condemns the burning of private vehicle of the Minister of Agriculture, Forestry and Rural Development, Memli Krasniqi.
"This unprecedented criminal attack, occurred in the course of the attacks that were carried out recently against legitimate holders of institutions of Kosovo and Minister Krasniqi, by various para-political anarchists, aims to create an atmosphere of violence and fear, and hinder the work of the Government of Kosovo and concrete results of the Ministry of Agriculture as one of the priority sectors for economic development".
The Government of the Republic of Kosovo states that the attack against Minister Memli Krasniqi carried out by people who have lost the reason, by not selecting means and through radical methods, are trying to drag the country into chaos and anarchy, for certain benefits.
Kosovo Government invites the competent authorities of order and justice, to take all legal measures against perpetrators of these criminal attacks and to prevent repetition in the future.
"The Government of the Republic of Kosovo, in accordance with the will of the citizens of Kosovo expresses full commitment to economic development, the construction of all state and strengthening the strategic partnership with the US and other friendly countries, despite the efforts that isolated groups are doing for undermining the national objectives of citizens and the Government of Kosovo", reads the oficial statement of the government of Kosovo, which came a few minutes after the burning of the car of the deputy minister's wife.
US ambasador to Kosovo, greg Delawie, also expressed his koncern abort these incidents: "Concerned about reports that Memli Krasniqi's vehicle was burned. All crimes should be investigated and prosecuted", – Delawie said. /ibna/