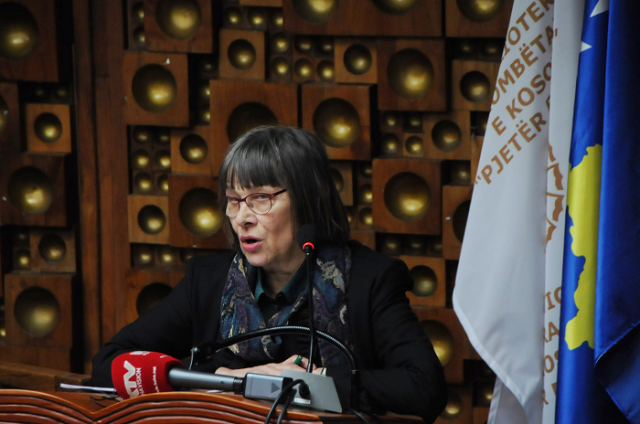 IBNA Special Report
Pristina, March 5, 2015/ Independent Balkan News Agency
By Elton Tota
The commune of Djakovica has approved the decision of making Natasa Kandic, a known activist of human rights in Belgrade, a citizen of honor of this commune.
This decision relates to the courage and activity of Mrs. Kandic, which has constantly raised the awareness of public opinion, especially the Serb public opinion, in relation to the crimes committed against Albanians of Kosovo.
Recently, she has also published a report, which links the head of the Serb Army with the crimes in Kosovo, an act which has pushed Serb leaders to criticize and file lawsuits against her.
Mayor of Djakovica, Mimoza Kusari-Lila said that Kandic, a founder of the Belgrade based Human Rights Center, deserved to be honored for her role in exposing war crimes in Djakovica, which saw some of the biggest cruelties of the war of Kosovo.
"Let us not forget that she's in constant pressure from her country about the work that she's doing. She has contributed a lot for the war victims. It was also Kandic the one to visit the prisoners from this city who were in the prison of Nis in Serbia after the war in Kosovo", she said.
But, the proposal of the mayor of Djakovica, Mimoza Kusari Lila has been objected by relatives of the victims.
Kusari-Lila said that the issue of honoring Kandic in Djakovica would be discussed by a municipality commission comprised of several political parties before taking a decision.
Relatives of the missing people: Kandic must not be honored
Coordinating Committee of the Association of Relatives of Missing People in Kosovo says that this proposal is anti-Albanian and insulting and called on Djakovica's municipality council to refuse it.
"No citizen of Serbia must be honored until Belgrade apologizes", said the Committee in a press release.
However, Kusari-Lila says that Kandic must be judged for her work, which aims at bringing war criminals before justice and she must not be judged about her ethnicity.
"This is not being done to damage the families of the victims, but this is in their interest", she said.
A previous attempt to make Kandic a citizen of honor in Ferizaj failed in 2010.
Agim Aliu, who was head of municipality council at that time, has been objected by organizations of veterans of the Kosovo Liberation Army in the city, which demanded for the municipality to postpone the decision.
Aliu said that the organizations suspected that Kandic had contributed for a report of the European Council, who accused the fighters of KLA of taking organs from Serbs who were captured during the war.
"There was no reason to postpone it just because she was Serb and we commend her work. We just wanted to confirm the accusations. After this, nothing happened and we declared her citizen of honor", he said.
On the occasion of the seventh anniversary of the independence of Kosovo, president Atifete Jahjaga has decorated Natasa Kandic with the medal for humanism. /ibna/