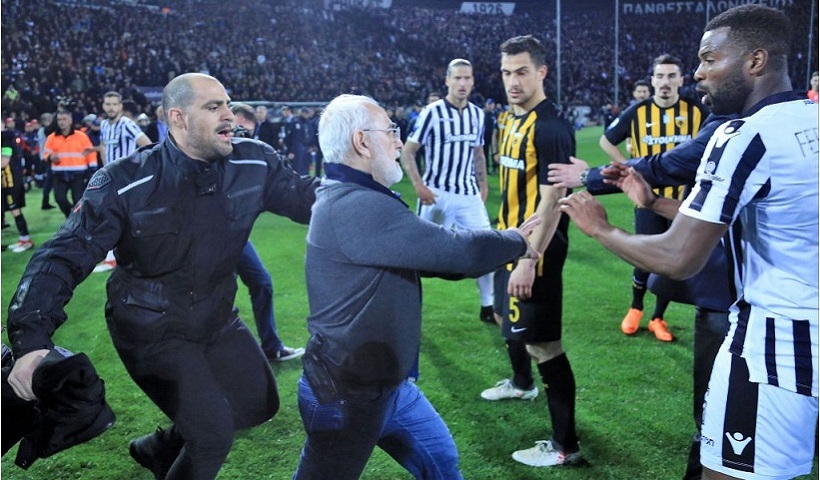 Greece's Deputy Minister for Sport, Giorgos Vasiliadis, outlined the conditions on which the suspension of football and cup action in the country could be lifted.
Speaking to ANT1 television on Wednesday, the minister named the following three prerequisites: the imposition of additional penalties for violence and comments that bring the game into disrepute; a provision allowing the relegation of clubs involved in violence on two counts; and holding clubs accountable for whatever occurs inside Greek stadiums.
The Tsipras administration took action to suspend football matches after violence broke out during a PAOK vs. AEK Super League football match last Sunday. PAOK owner Ivan Savvidis was seen running onto the field to protest, while allegedly carrying a weapon.
FIFA officially warned Greece that it could be banned from international competition if it fails to stamp out violence. "This behavior has pushed us to come here to make recommendations," Herbert Hubel, the head of the FIFA committee monitoring Greek football, told a press conference in Athens. "The "Grexit" that looked distant is no longer," he said.
The Sports Minister completed an initial round of talks with representatives of Super League clubs on Wednesday. The Super League expressed its stern opposition to the suspension of league and cup football, suggesting that the decision to suspend the league punishes all clubs unfairly, instead of applying the letter of the law with whatever consequences for PAOK and its owner.
Meanwhile, government spokesman Dimitris Tzanakopoulos noted the government's determination "to clash with the organized interests and criminal gangs preying on Greek football," and put a stop to the things that previous governments had either tolerated or actively bred through their ties with specific business interests.
"We are ready, with the valuable and essential assistance of FIFA, to put an end to phenomena that hurt the image of Greek football and the country" he said.
Sections of the Greek press continued on Thursday to criticize the government for not being tough in its treatment of Ivan Savvidis. The issue is being treated as a political one due to the close ties Savvidis is believed to have with several Greek government officials.
Main opposition New Democracy party leader, Kyriacos Mitsotakis, said earlier this week that the Prime Minister Alexis Tsipras and the PAOK owner have a "cozy arrangement", with the coalition promoting the latter's business dealings. The government spokesman rejected the criticism aimed at the government, making clear that no businessman had been favorable treated.
Political analysts pointed out on Thursday that the treatment of Ivan Savvidis may be a cause of fresh friction between ruling coalition partners SYRIZA and ANEL. The leader of junior coalition partner ANEL, Panos Kammenos, is believed to be a close friend of Savvidis and has refrained from criticizing his actions. Should SYRIZA seek to punish the businessman, ANEL may react strongly, analysts suggest. So far, the government appears to be determined to allow the Greek judicial authorities to deal with Savvidis' behavior at Toumba Stadium.
A Thessaloniki prosecutor has ordered a judicial investigation of the pitch invasion. The probe will also investigate why police allegedly ignored instructions to arrest Ivan Savvidis on the spot. The businessman faces a fine for threatening football officials and a stadium ban for three to five years. PAOK also faces relegation, according to media reports, as well being docked points this season and next./IBNA