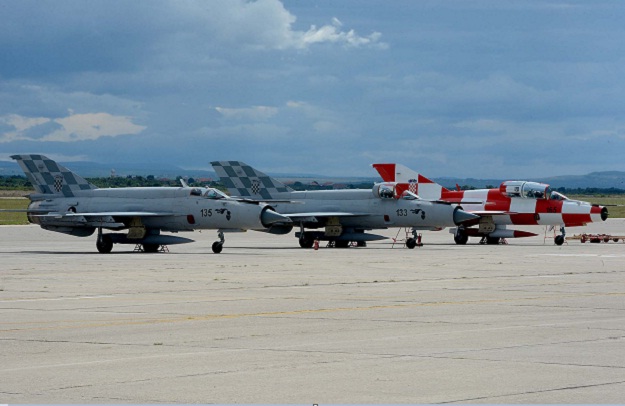 By Marija Avramovic – Zagreb
"We have 12 MiGs and our air space is not compromised, but this fighting capacity will last until 2024, after which all the licenses will have expired. Though with delay, in 2016 we must make the final decision on the fate of our Air Force. Such an important decision – both financially and politically – should be made by Parliament", President Ivo Josipovic said last night for Croatian radio television (HRT).
Josipovic took the opportunity to congratulate the pilot Stanko Hrzenjak who did everything so that the fall of a MiG on August 5 did not cause any serious consequences and victims and added that this accident has shown that Croatia has old planes, but good and reliable pilots.
He announced the congress of the Council for National Defence in September, which will consider the final report and all aspects of the matter.
Asked whether Croatian airforce squadron should be landed, the president said he currently didn't have a single information to suggest that there is a need for such a thing.
Defense Minister Ante Kotromanovic said that the biggest responsibility for the fall of a military aircraft is on him and his predecessors, but that he will decide about the possibility of his resignation after the commission's findings that will determine "all elements of the accident".
He urged that everyone – the government, the opposition and the experts – will have to decide as soon as possible on the future of military aviation, noting that he will decide on his possible resignation upon the decision of the commission and the discussions with "his two superiors" – the Prime Minister and the President of the Republic.
Chief of the General Staff Lieutenant general Drago Lovric urged for keepingthe aviation as a guarantor of croatian security and recalled that they were forced to extend the deadline for worn MIGs. "Protecting the sky is Croatia's obligations towards NATO", Lovric also warned.
Assistant Secretary General of NATO for Public Diplomacy Kolinda Grabar Kitarovic claimed that NATO does not say how much to spend on the defense system, rather than just asking for it to be efficient and effective. She believes that the fall of the MiG is a wake-up call.
"I am extremely concerned when I see what has happened in recent years with the Croatian Air Force, which was the pride of the Croatian Homeland War, and today is a bunch of iron dangerous for people on the air and people on the ground. I believe that this is the result of years of neglect and disinvestment in that component of the armed forces. The strategy of defense and national security is obsolete. This fall of MiG must be perceived as a wake-up call and it should be discussed and decided upon how way to invest in the Air Force", presidential candidate Grabar Kitarovic said for HRT.