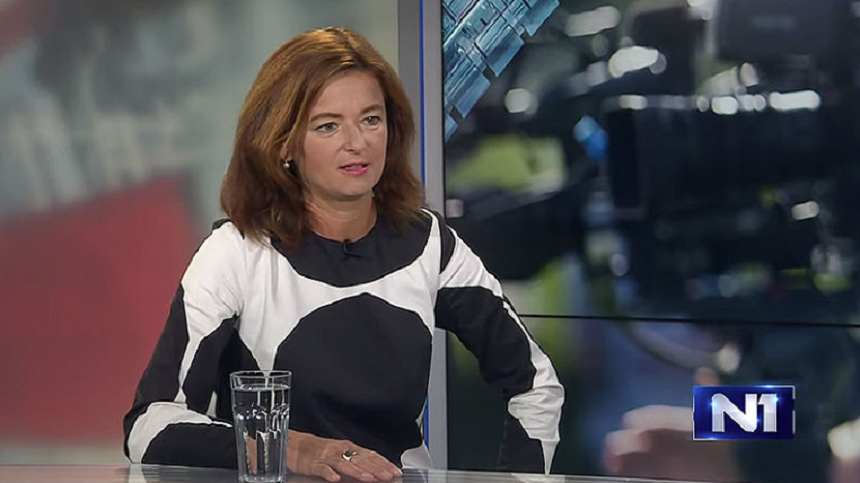 "The decision not to set the date for the start of the EU accession negotiations with North Macedonia and Albania is wrong. I cannot say it was the EU's decision; it was more the decision of one country, France, which for internal political reasons prevented the approach of North Macedonia and Albania", Co-President of the EU-Serbia Stabilisation and Association Parliamentary Committee Tanja Fajon stated in an interview on Belgrade's N1 television channel.
"We are friends, we call for the process to continue. France and other countries blocking this enlargement will be responsible for the stability of the region when, on the contrary, we have countries ready to take the next step", Fajon notes, recalling that the European Parliament last week sent a clear message in support of EU's enlargement for all Western Balkan countries.
In the absence of an EU decision to kick off negotiations with North Macedonia and Albania, Serbian President Aleksandar Vucic in several statements weighed in on the region's expected distrust towards the EU and the need to "develop ties with other partners, such as Turkey, China and Russia", which constitutes a serious concern for the EU, Fajon noted.
As for the EU-Serbia relations, Tanja Fajon pointed out that "looking at Serbia's foreign policy we would like to see Serbia's decisions moving closer to the EU. When we introduced the EU's sanctions against Russia, Serbia did not introduce them and that comprised one of the EU's serious points of criticism. We all know that the Western Balkans scheme is a polygon with different geopolitical interests; but Serbia is part of Europe", Fajon added.
We are afraid of the Chinese and arms and other similar types of sales, with our concerns being serious; yet open discussions with Russia and China is a normal thing. Slovenia holds open discussions as well, but where you want to go and in what direction is different, Fajon said. She went on to add that she expects Serbia to work honestly in view of its EU accession.
When asked whether there is an impression that Serbia is in no hurry to join the EU, she answered: Sometimes, on one hand, the EU represents a significant donor and a major investor in Serbia; Serbian citizens share European lifestyles and European values. Serbia, on the other hand, is having talks with Russia and China, and I reckon that sometimes it seems that Serbia responds to this status quo.
Fajon estimates that the EP and the EU are backing Serbia and doing their best to continue the enlargement process.
"Serbia is pushing for enlargement and the reform process in the talks," Fajon said, adding that time would show how honest it had been.
"Serbia", she believes, "has made significant progress. – We have some open funds; I would like for more to exist … But when it comes to fighting corruption, organized crime, prosecuting and judicial independence, freedom of the media and the rule of law – when you have normal conditions, it means you have better investments, a healthy economy and sound political cooperation. Serbia has to achieve all this -time will show how honest it has been", Fajon added. /ibna