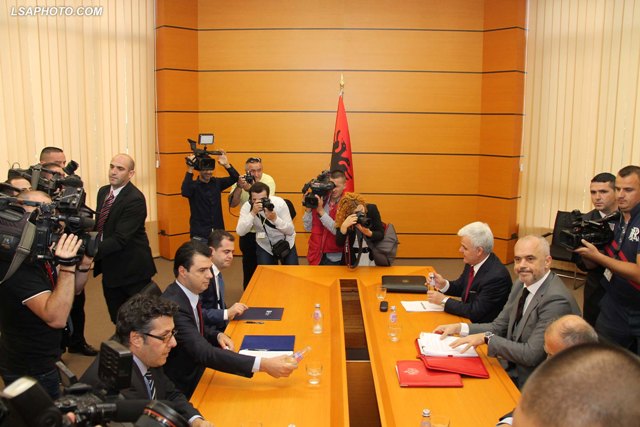 Tirana, 8 June 2016/Independent Balkan News Agency
The European Union considers Monday's failed talks between majority and opposition in Albania on the approval of the reform in the justice system as a lost opportunity.
Maja Kocijancic, spokeswoman of the head of EU Foreign Policy, Federica Mogherini, declared for journalists in Brussels on Tuesday that "yesterday's meeting was a lost opportunity" which will damage Albania's next steps toward EU integration. She said that "our positioning has not changed: this reform must be approved".
Mrs. Kocijancic said that the bill "is in line with international standards" and called on Albanian politicians to resume talks.
The opposition publicly declared that it will not vote the reform as it is. However, its votes are necessary to secure the approval of constitutional changes, as 94 votes are needed to vote it, while the current majority only has 80 MPs in the 140 seat parliament.
A few days before the meeting between Rama and Basha, EU Commissioner Johannes Hahn reacted.   "I welcome the constructive work done so far on a fundamental justice reform in Albania which has been supported by local and international experts like Euralius, OPDAT or the Venice Commission".
Hahn said that "a swift adoption of the reform and its consequent implementation is now key" and added: "This would not only respond to the overwhelming public support in Albania for reforming the justice system but would also signal a clear commitment to European standards and European integration process".
"Now, it is important to go the last mile and ensure the two-thirds majority needed for the respective constitutional changes. Therefore, I urge all parties including the opposition to place the interest of their country and citizens above their individual interests and find compromises on the outstanding political issues, without compromising the substance of the internationally recognised draft reform. The coming days will be decisive whether Albania will advance in the Euro-championship or stays in the group stage", Mr Hahn warned. /balkaneu.com/