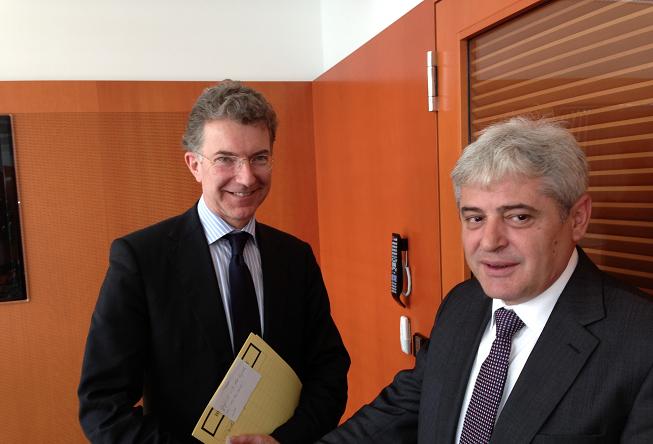 Skopje, June 14, 2013
The joint achievements of the past 12 years in FYR Macedonia such as the Ohrid Agreement, inter ethnic relations and Euro Atlantic prosperity are being jeopardized by the failure to solve the name contest with Greece. This concern has been expressed today by the leader of BDI, Ali Ahmeti in Berlin during a meeting with dr. Christoph Heusgen, general director of German Prime Ministry and at the same time, political and security advisor of German chancellor, Angela Merkel.
Artan Grupi, chief of the cabinet of the leader of BDI, Ali Ahmeti declared that in this meeting, Ahmeti has demanded reconciliation between nations of the region on the 100th anniversary of Balkan wars.
"The leader of BDI invited the German Government to help with the process led by UNO intermediary, Mathew Nimic for the solution of the name dispute with Greece and the accession of FYROM in the EU and NATO, a process which has come to a halt. On the other hand, Heusgen showed his interest about two issues which relate to inter ethnic relations and solution of the name dispute", said Artan Grubi about the meeting.
This meeting underlined the fact that the German chancellor supports the process of the solution of the name dispute, the good inter ethnic relations and the implementation of the Ohrid Agreement. Today Ahmeti also met in Berlin senior officials of the German Foreign Ministry. During this visit, he has been accompanied by the deputy Prime Minister of FYROM, Musa Xhaferri. /ibna/