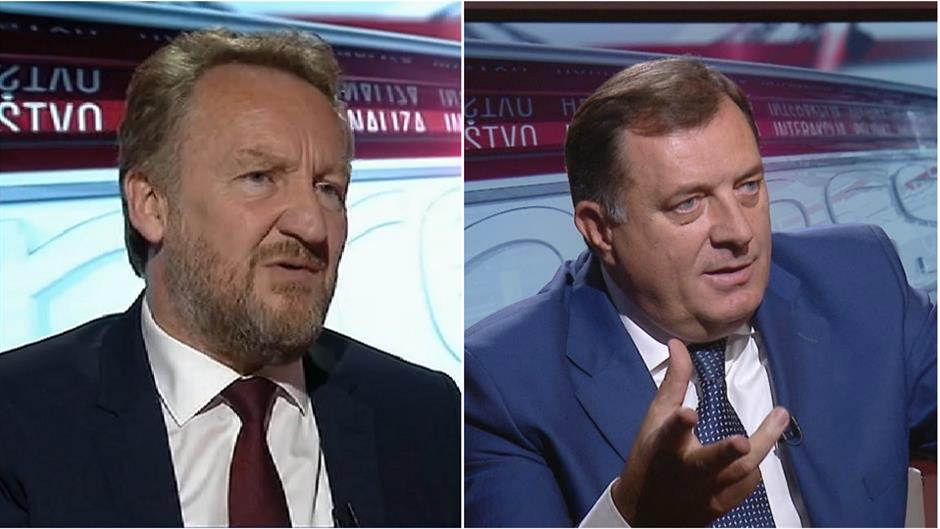 Sarajevo, August 24, 2016/Independent Balkan News Agency
By Mladen Dragojlovic
In last few months, in fact since RS National Assembly approved referendum in this entity about January 9 as Day of RS, BiH is showing the complexity of relations in this small area. The truth is that, since the war ended, this country was not in the bigger political dispute and with more threats for unstable peace.
The fact is that BiH is showing two faces: inner and outer, and that they are so different that it is very hard to believe that it is the same country. The inner face, turned at local politicians and their relations is very angry, but the outer which looks toward the European union, is smiling and cooperative.
The inner face is burdened with spite among Bosniak and Serb political leaders, Milorad Dodik and Bakir Izetbegovic, who are playing the game to hold or to ban the referendum. The last Izetbegovic move was a new appellation to the BiH Constitutional Court to define is the referendum is in accordance with the Constitution or not. To make sure that the appellation will be taken in consideration soon, two Izetbegovic's party colleagues send same document to same court. Eyes of Bosniak politicians are also turned toward the Office of High Representative and Valentin Inzko who, as they think, can ban this event. But, Inzko doesn't want to do anything without the Peace Implementation Council's (PIC) opinion on this matter. This institution, as it seems, in fact doesn't have a unanimous opinion. Russian ambassador in BiH, Peter Ivancov, is against any action aimed at banning the democratic expression of citizens will. Unofficially, this is also the position of Germany in PIC. This situation is good for Dodik who, just a few months before local elections, is showing how he and his party "protect Serbs and RS in BiH". His popularity at this moment is very high and candidats of his SNSD party will rip large benefits from this situation.
The outer face of BiH, turned to EU and smiling, is more than attractive to EU officials. BiH has a lot of work to do on its path to the Union, but the biggest obstacles refer to the process and they will soon be resolved. One of them was the so called "coordination mechanism" which finally was agreed last week and BiH Council of Ministers adopted it on the session on Tuesday. It is such a big thing on the EU path of the country that the highest EU officials welcomed the adoption of this document.
EU High Representative and Vice President, Federica Mogherini, and Commissioner, Johannes Hahn, issued a joint statement to emphasize how important this step is for citizens of the country.
"The EU welcomes adoption of the Coordination Mechanism, which aims at improving the country's policy coordination and implementation, including as regards EU financial assistance, and to ensure a more efficient and effective interaction between Bosnia and Herzegovina and the European Union. This is an important step which will be taken into account in our discussions with the Council when considering Bosnia and Herzegovina's application for EU membership. Its effective implementation at all levels will be crucial.
The EU encourages the leadership of Bosnia and Herzegovina to continue their intensified positive interaction, tackle constructively and through dialogue political issues and concentrate on reforms needed to the benefit of the citizens of Bosnia and Herzegovina. From our side, we will continue our close and dynamic engagement with Bosnia and Herzegovina to advance the country's EU perspective", stated these two EU officials.
The best thing for everybody in the country is that both faces have turned towards the future and that politicians understand that cooperation is the only way for BiH. In any other case all scenarios are open.