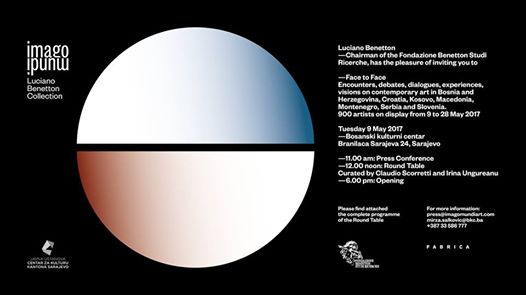 BiH capital, Sarajevo, will host the one of the most important exhibitions in Europe, which will be organized by "Imago Mundi", contemporary art project promoted by Luciano Benetton.
This is a non-profit project, which brings together various artists from around the world, established and emerging, who take up the challenge of the same medium, a 10×12 cm canvas. About 20 000 artists from 120 countries, regions and peoples, have become involved in the project, and this number will rise to 26,000 by the end of 2017.
Sarajevo will host an aesthetic and artistic composition made up of new and original visions from the most significant artists of seven of Europe's most recent republics. "Face to Face," the new stage in the Imago Mundi's journey, connects, unites, pushes back and compares, in an exhibition hosted at the Bosnian Cultural Centre, from 9th to 28th May. The mosaic will be consisted of works by artists from BiH, Croatia, Slovenia, Serbia, Montenegro, FYRO Macedonia and Kosovo.
"It is no coincidence that Imago Mundi's latest appointment takes place on 9th May, Europe Day, in Sarajevo, a key city for European and world history, evocative of cruel and painful wounds. The aspiration is to overcome borders, heal rifts and build new paths, channelling the creative energy of nearly 900 artists, who have come together in the name of a shared ideal of beauty", confirmed "Imago Mundi" project in the press announcement.
The opening of the exhibition, according to a press release, will be preceded by a round table, which will be held at noon and will be curated by Claudio Scorretti and Irina Ungureanu. The event aims to generate a conversation on the subject of contemporary art in these countries and will consist of three phases: an initial moment of dialogue between the curators of the collections; a debate among the artists, representing the countries on display; and finally an exploration, from multiple perspectives, of artistic experience across the whole region.
"Countries in which complex historical events, marked by the interchange and – often restless – coexistence of different peoples, cultures and religions, have occurred in a mutable region composed of mountains, coastlines, rivers, islands and plains: the result is a cultural landscape whose defining feature is the bridge, that unites and invites encounters, because, in the words of Ivo Andric, hope and the future often lie on 'the other side'", stressed the organizers of the project in the announcement.
Thus, as they said, "Imago Mundi" brings the artists, their works and, by extension, the realities of belonging, "Face to Face": in this encounter the parties are not divided and distant, but, by virtue of their differences, in fact, find common ground for constructive comparison and mutual growth./IBNA