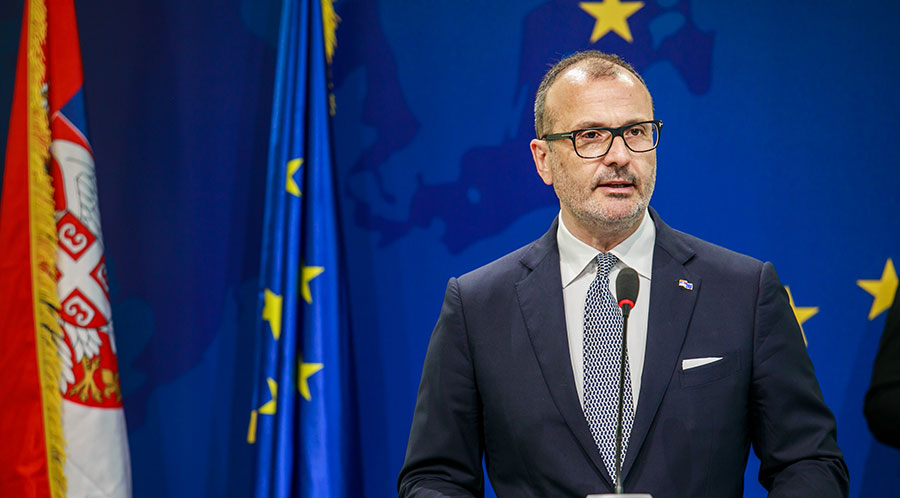 The head of the EU Delegation to Serbia, Sem Fabrizi, said yesterday on a Serbian TV show that the agreements reached on Tuesday for "Mini Schengen" represent a major political commitment on reforms, adding that the EU will help with maximum support for their implementation, which should be completed in three to four years.
The agreements, as Fabrizi reminded, provide for improved interconnections, without waiting at the border, recognition of driving licenses, while there is also the possibility of investment and that people from one country can work in another.
Brussels will help bring the region closer to the EU, Fabrizi said, adding that some reforms are needed to free up nine billion euro worth of EU funds for infrastructure, build sustainable development in the region and introduce broadband internet, as envisaged in the agreements.
"Among the reforms that need to be implemented are the reduction of border guards, as well as the technical issue of documents and customs," Fabrizi said.
Asked whether the agreements signed on Tuesday were preparations for the region's accession to the EU, Fabrizi said they would help the region join the EU.
"I think the creation and completion of the internal market will help the region to join the EU. I would not say that the EU is not ready to accept this, it is part of the economic process and economic reform. "What was signed yesterday, we call a key square on the road to the EU", Fabrizi said.
The Western Balkans region is largely connected to the EU, so we need to work on that basis to increase that connection, and that, Fabrizi said, will contribute to the regional connection of countries aspiring to join the EU.
Fabrizi recalled that the very creation of the EU was preceded by the economic connection of future members.
A memorandum of understanding and co-operation was signed between Serbia, North Macedonia and Albania on co-operation in the fight against COVID-19 and a transnational agreement between Serbia and Albania on the free movement of citizens, just with ID cards./ibna