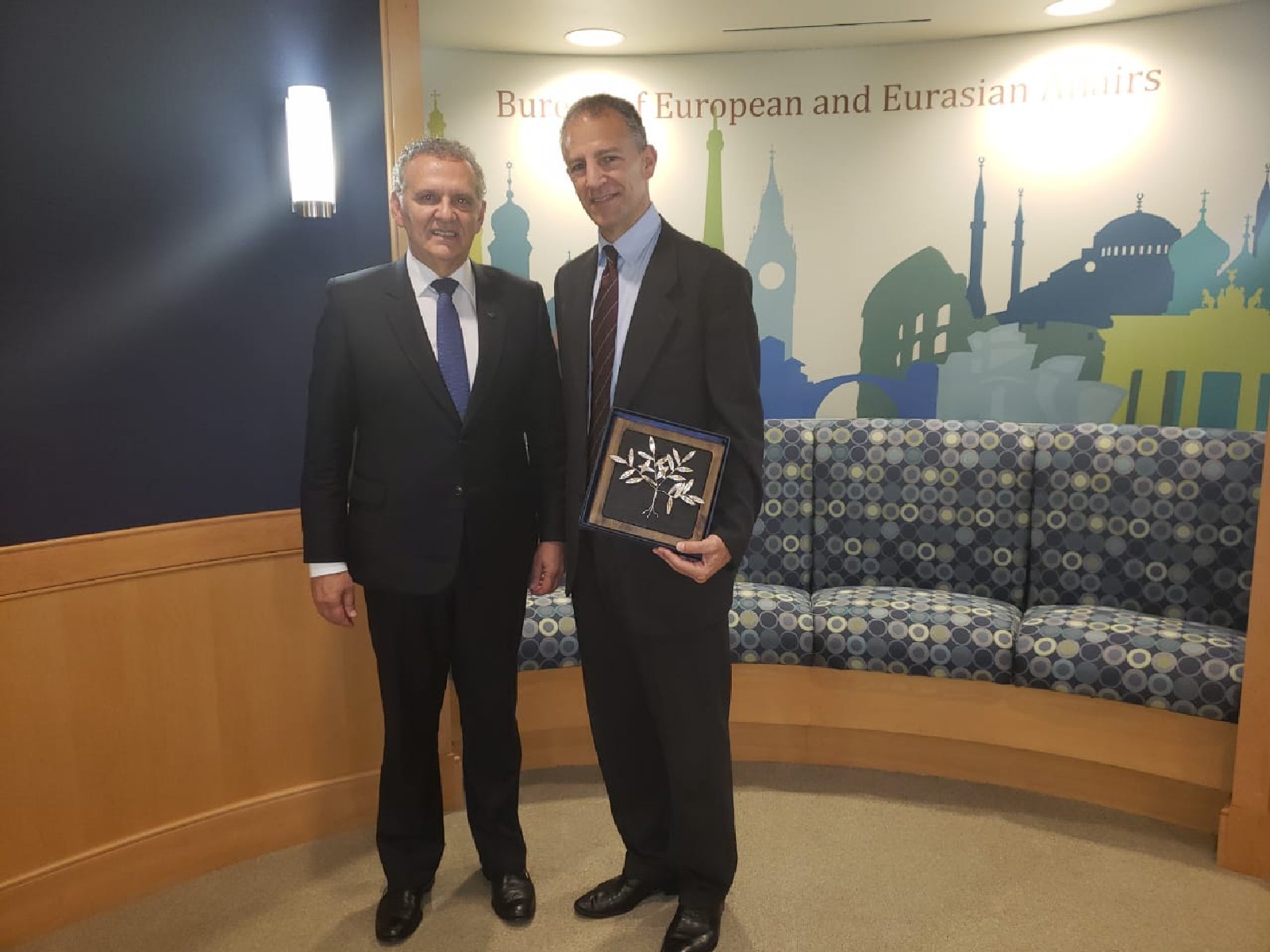 During his visit to the United States on the occasion of the annual meeting of the World Co-ordination Committee of the Cyprus Struggle (PSEKA), held in Washington from May 22-24, 2018, the Presidential Commissioner, Fotis Photiou, had a meeting with the Deputy Assistant Minister of Foreign Affairs of the United States, Jonathan Cohen.
The two men discussed the general situation in Cyprus and, in particular, the stagnation of efforts to resolve the Cyprus issue, as well as the latest provocative actions by Turkey in Cyprus' Exclusive Economic Zone.
The Presidential Commissioner reiterated the position of the Greek Cypriot side as to its readiness to resume talks from the point where they stopped and on the basis of the Guterres framework, under the condition that Ankara lifts its intransigence and ceases its provocative actions.
Photiou pointed out that Cyprus remains a stable and reliable partner of the US in the Eastern Mediterranean region.
The discussion also focused on the tragic situation in the humanitarian problem of missing persons, on which Photiou said that developments are at a focal point. He explained that this was due to Turkey's refusal to provide information and access to the Turkish army's archives concerning the collection of the dead from the battlefields and the deliberate movements of the bones. He then asked from the US official that the United States continue to work together to resolve this humanitarian problem and, at the same time, put pressure on Turkey.
The Presidential Commissioner also discussed the problems of the Greek-Cypriots who are trapped in the occupied part of the island, and in particular the operation of the schools in the occupied Rizokarpasso, as well as the destruction of the cultural and religious heritage in the occupied areas.
The US Assistant Secretary of State has assured that he will do his utmost to resolve the humanitarian issue of missing persons, as well as the other aspects, within his jurisdiction.
At the same time, during an event of the Embassy of the Republic in Washington, Photiou had the opportunity to talk with the Deputy Chairman of the US House of Foreign Committee, the Democratic MP, Ed Royce, as well as the Greek-American Democratic MP, John Sarbanes./IBNA
Photo: pio.gov.cy