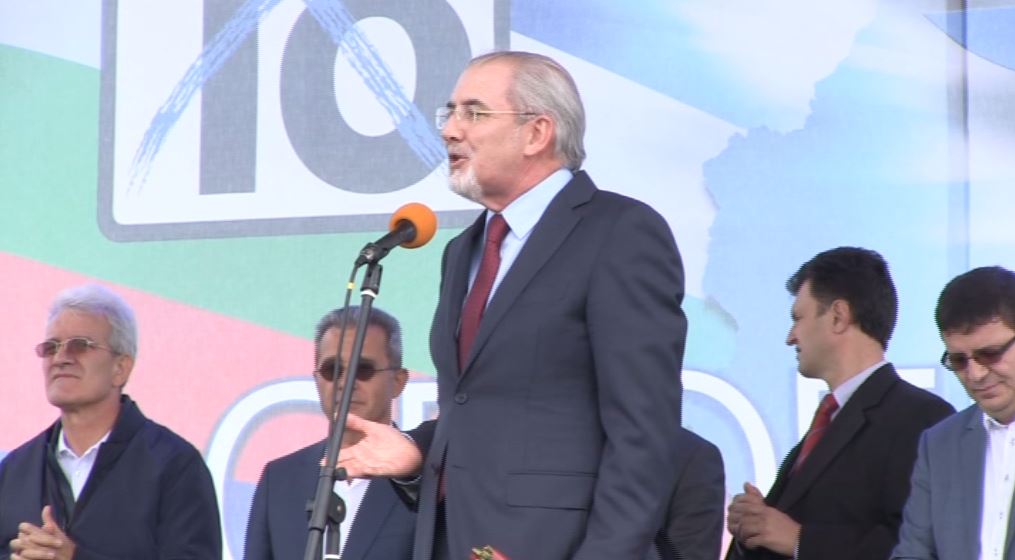 By Clive Leviev-Sawyer of The Sofia Globe
It may again have run only third in Bulgaria's October elections, but the Movement for Rights and Freedoms remains central to conversation in the country's politics – either as a pole around which the axis of the country's public life revolves, or as the polecat that few if any other parties want to be near.
The MRF was in particular focus on October 14 in the hours ahead of its scheduled meeting with Boiko Borissov's GERB, winner of the largest share of votes in the elections and the next government-presumptive.
GERB is holding a series of formal talks with all of the other seven parties that won seats in Bulgaria's 43rd National Assembly. None of these meetings is likely to be dull, but that with the MRF certainly has a number of interesting aspects.
The MRF was the key element in the ruling axis that was in power in Bulgaria from May 2013 to August 2014 before finally stepping down amid widespread public rejection.
It has a track record of working in coalition with the Bulgarian Socialist Party, a scenario impossible this time round because the BSP and MRF combined have fewer seats than GERB, and beyond that, a return to power in any discernible form of the former ruling axis would likely trigger fresh if not more powerful public protests.
There has been much speculation of a discreet deal between GERB leader Borissov and MRF leader Lyutvi Mestan, a scenario both deny but which was fuelled by a publicised meeting between the two a few months ago amid the melodrama surrounding the declining fortunes of the BSP and the government formed with the BSP mandate.
A day ahead of the October 14 talks at Bulgaria's National Assembly building, Mestan said that his MRF was ready to lend support to a GERB minority government "with no conditions and without power-sharing" but added that the MRF would "categorically" oppose an unprincipled coalition involving extreme nationalist entities.
This latter qualification was clearly a reference to the Patriotic Front, which will have 19 seats in the 240-member National Assembly, and which is the subject of much talk as a possible partner in a new GERB-led coalition government. Less likely to be involved is Volen Siderov's Ataka, which will have 11 seats but which is likely to remain in opposition.
Either way, these two ultra-nationalist parties together will have 30 seats and while the Patriotic Front and Ataka are locked in mutual enmity, both openly despise the MRF for its Bulgarian Turkish ethnic element and what the two-far right parties claim to be its undue influence in Bulgarian public life.
Mestan said that the MRF was not seeking power and was aware of the risk of new elections (a much-spoken of scenario should GERB fail to make a deal in the new piebald Parliament), but the MRF saw an "unprincipled coalition" involving what he called extreme nationalists as "an even greater risk".
Should extreme nationalists be involved in a new government, this would divide the nation, Mestan said.
He said that the MRF would be attending the October 14 meeting with the GERB three-member negotiating team because it felt bound to do so by political ethics.
Should GERB accept the MRF offer of support for a one-party minority government, this would mean a total of 122 MPs, just more than half of the seats in the National Assembly and sufficient to govern.
Borissov has flip-flopped on his ideas for a government.
At various points before and after the elections, Borissov has spoken of wanting enough MPs to govern alone (at 84 MPs, GERB is well short of the 121 needed), then he spoke of a minority government supported by the votes of other parties, and this lately has shifted to a coalition government in which parties have cabinet seats in return for support.
Subtly, Mestan also signalled possible support for more than one version of a GERB government, not only a single-party one but also any government that stood on a clear democratic basis and had a "Euro-Atlantic governance programme".
All of Mestan's comments come against a background of Borissov and GERB repeatedly having said that neither the BSP nor the MRF should be in the new government, and he also used his October 13 news conference to show that he was stung by most other parties saying that they wanted nothing to do with the MRF.
Meanwhile, on the streets of various cities and towns in Bulgaria, there have been public protests against MRF MPs being elected from local lists.
At an October 13 protest in Gabrovo, for example, residents disgruntled at a result which put an MRF candidate into Parliament. They chanted, "This is Bulgaria" and "down with the MRF". The MRF office in Gabrovo was pelted with eggs and stones.
Separately, at a meeting of the civil council on elections, caretaker Deputy Interior Minister Philip Gounev said that the Interior Ministry had been primarily the domain of the MRF, being run mainly by that party.
Gounev said that the politicisation of the Interior Ministry was the biggest obstacle to investigating the buying and selling of votes.
He said that under the previous government, all the heads of regional directorates of the Interior Ministry had been replaced.
According to Gounev, the politicisation went all the way down to district and local levels, outside mainstream public notice.
"They are also promoted by a party. This is not a problem in the investigation of everyday crime and to an extent organised crime, but against the background of economic crimes involving circles of companies, when it comes to the investigation of corruption, of buying and selling votes, there is a sign of a conflict of interest because they have to investigate those who appointed them," Gounev said.
He said that some directorate heads, although they had been promoted by parties, did not play along and did their jobs, but others felt dependent and were more passive.
Caretaker Interior Minister Yordan Bakalov said on October 13 that there were politicians involved in vote-buying, an allegation similar to one he made ahead of the elections, but again he declined to name names.
However, he pointed to the MRF's Kamen Kostadinov as the organiser of the election victory of the party in the village of Galiche.
Mestan rejected Bakalov's claims, saying that the victory of his party in the village because of the increase in confidence in the MRF among the Roma population.