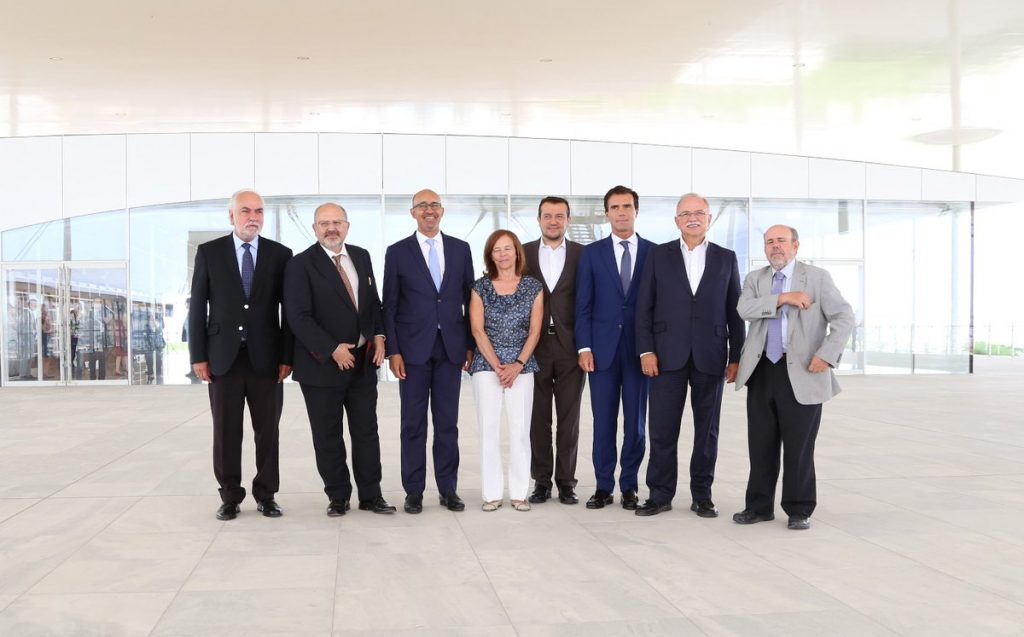 Athens, September 13, 2016/Independent Balkan News Agency
By Spiros Sideris
The Joint Declaration signed by the Ministers for European Affairs, France, Italy, Portugal, Malta and Greece in Athens Meeting Saturday September 10 has a special meaning. This is because it sums up and highlights some key common positions in view of the Bratislava summit, especially after the Joint Declaration of the leaders of the Mediterranean countries of Europe:
Deputy Foreign Minister Nikos Xidakis said after the meeting: "Any democratic and sagacious European citizen who has not forgotten the dark times of the 20th century is concerned about the rise of the far right, at a time when there is a risk in some countries to come to power and in others to be part of the coalition government. It is a duty to give a combative in depth answer. And this is what we all agreed at the meeting of Ministers for European Affairs and members of the European Parliament in Athens Saturday".
For their part the invited Ministers stated:
French State Secretary for European Affairs said: "It turns out that the doctrine of austerity is not so clever, since it hasn't given any positive results neither in society nor the economy, nor the unity of the EU".
"We want to give a push to development and therefore need to help investments that will be achieved through flexibility in the Agreement", said the Italian Minister for European Affairs.
The Portuguese State Secretary for European Affairs, in turn, said: "The Stability and Growth Agreement needs to promote growth and create jobs, not to freeze the economy. There is a growing consensus in Europe to promote development".
Finally, the Maltese Deputy Prime Minister and Minister for European Affairs said: "Malta, with the assumption of the presidency from January 1, 2017, will work tirelessly to achieve the objectives of a united Europe towards growth and social solidarity".
The text of the conclusions
Building on the PSC GAC meeting in Rome on July the 15th, today we meet in Athens to address the state of European Affairs, assess current and future European issues and prepare the informal Summit that will be taking place in Bratislava on the 16th of September.
Europe faces many challenges: refugee, migration, economy, social discontent, Brexit, security, the rise of populism, nationalism and extremism. The future of Europe is at stake; we want strong and concrete answers to these challenges. We think we will be stronger by answering these challenges together rather than by a division of European countries. Having 28 different views would be an illusion and the end of Europe. We will not let Europe be destroyed by antidemocratic and nationalistic forces. In view of Bratislava and from Bratislava to Rome and further we will promote a united and stronger Union, ensuring more protection for its citizens and a more secure, growth-oriented and social environment.
The migration / refugee challenge needs to be addressed in a coordinated manner, with solidarity and responsibility in Europe, in order to contribute to inclusive societies. Too many people have suffered and lost their lives, this issue deems global attention. We reiterated our agreement on the need to pursue a comprehensive approach, including both European and international engagement. Building on the Valetta Summit, we should aim at further concluding and reinforcing partnerships with countries of origin and transition as a key priority for the European Union. Our commitment to apply the Schengen Borders Code and to implement the EU-Turkey statement is sound. Developing a strong External Investment Plan to reduce migration flows and break the business model of smugglers is of crucial importance. The implementation of the European Border and Coast Guard proposal must be in place before the end of this year.
European economy's recovery still lags behind, not meeting our citizens' needs. We should work towards achieving sustainable economic growth and social wellbeing as outlined on the PES roadmap. A strong support to investment is a priority, in the key domains for the future of Europe – digital, economy, energy, climate change. Making full use of flexibility in order to incentivise investment in the strategic fields, such as education, training, research, innovation and culture is also key. Implementation of progressive structural reforms, aiming at achieving full employment and economic and social convergence so as to preserve our social model is equally important.
The revision of the MFF should take into account our priorities, work as a tool to boost investment and ensure that the European budget is used in a strategic way to tackle the challenges that Europe faces.
In particular, constructive exemptions, as an investment incentive, from the calculation of public deficit of national co-financing of investment projects, co-financed by the Structural and Cohesion Funds as well as the so-called Juncker Fund. We called upon the Commission to swiftly come forward with proposals on the future of the European Fund for Strategic Investment (EFSI) and strengthen its added value.
Deepening the Economic and Monetary Union and achieving convergence of economic and social policies across Europe is pivotal for addressing current imbalances, including trade surpluses within the Eurozone. In this respect a more balanced policy mix, developing a Eurozone budget and strengthening democratic legitimacy and accountability of the European institutions is crucial.
Continuing to fight against tax avoidance, tax evasion and fiscal dumping as well closing down tax havens is at the top of our priorities. The aim is to address aggressive tax planning and money laundering and establishing fair and redistributive tax systems.
The creation of a strong social union to protect the EU's labour standards is of pressing importance. A new European pillar of social rights must be defined, notably on working conditions, minimum wage, access to skills and quality jobs and universal access to services in high education, childcare and health care, as included in the's Commission proposal of March 2016.
Working towards an ambitious agenda for Europe's Youth, and using all European financial means to deliver on four priorities, namely European Youth Guarantee, European Child Guarantee, 'Erasmus for all', European Youth Culture Cheque, remains a core objective.
Respect of fundamental rights and rule of law is at the core of the European identity and the capstone of our common project. A democratic periodic review is called for in order to allow member stated to address common concerns and discuss among equals the state of health of democratic institutions within the EU.
In June the High Representative released a global strategy for the European Union's Foreign and Security Policy, the strategy is extremely timely and relevant. It is important to make full use of this constructive approach and to continue the discussion to move forward as a Union and strengthen our defence policy.
The good functioning of the EU Institutions is essential to deliver on the abovementioned priorities. Full use of the existing mechanisms and tools is important. The General Affairs Council is called to play a central role in designing and monitoring the implementation of European Council decisions.
Regarding Brexit it is towards the political and economic benefit of both the EU and the UK to move forward within a reasonable time schedule reducing uncertainty. Negotiations should neither monopolize the European agenda nor be carried out through bilateral negotiations.
At the Summit in Bratislava we will support our vision for a better Europe. We, progressive European Ministers, will continue to call for a change in Europe, in line with our fundamental principle of ensuring democracy, human rights, prosperity and peace in Europe. This is the time not to shy away from bold decisions. It is the time to put the interests of society and citizens at the heart of European policy making and reinvigorate trust in the European project and respecting diversity.
The 60th anniversary of the signature of the Treaties of Rome will be an occasion for confirming our commitment to and re-launching the European project.
We look forward to continuing working together to tackle European challenges.