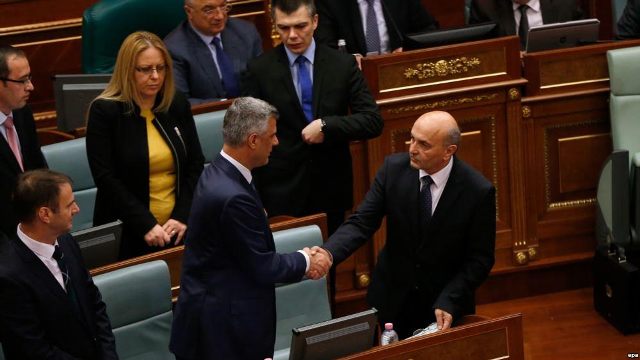 Pristina, 25 February 2016/Independent Balkan News Agency
By Elton Tota
As it was agreed by the two political parties that formed the governing coalition in Kosovo, Hashim Thaci is expected to be the new President of the country.
An extraordinary parliamentary session was decided to take place on Friday for his voting. This was decided by the Parliament of Kosovo's Steering Committee.
The Committee declared that the nominee of the governing coalition for the post of the president is the leader of the Democratic Party of Kosovo, Hashim Thaci, who is also first Deputy Prime Minister and Foreign Minister of Kosovo.
Thaci will also have a "rival". He is formal and he comes from within the ranks of his party, PDK. He is Rafet Rama.
However, the election of the nominated president is not a sure thing. This nomination is being contested by the opposition, which has invited people and civil society to hold protests in the main square of Pristina.
There have also been objections by MPs of the Democratic League of Kosovo and Serb List.
The opposition has been mobilized not to allow Thaci's election in the post of president.
Founder and MP of Self Determination, Albin Kurti says that the current coalition, which makes up for the majority in parliament, dones't have a legitimacy in current circumstances to elect the new president.
"Kosovo needs fresh democratic elections. We must let those elections to produce the next parliament, the next president and the next prime minister", Kurti said.
According to him, "if the president is trafficked this way, Kosovo may sink into a much deeper political crisis".
The Serb minority has its claims too. The head of the Serb List, Slavko Simic says that it is not a definite thing that the Serb List will participate on Friday's session when the president of the country is expected to be elected.
The Serb List is asking for the coalition partners, PDK and LDK to sign a document through which they give assurances that once the president is elected, the requests of the Serb List will be met.
On the other hand, speaker of Parliament, Kadri Veseli says that the process must be transparent and inclusive.
"The process must be transparent. Never before there has been so much time to inform the public opinion on the process for the election of the new president", Veseli said.
According to constitutional procedures, the elections of the president may go through three rounds of voting. In the first two ones, 80 MPs or two thirds of votes are needed. In the third round, 61 one votes are needed to elect the new president. /ibna/