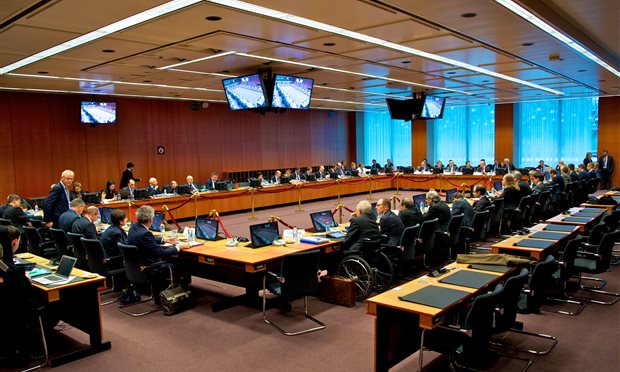 Athens, March 31, 2016/Independent Balkan News Agency
By Zacharias Petrou
An extraordinary Euro Working Group (EWG) meeting will be held Friday via teleconference to take stock of negotiations so far between the Greek government and the country's creditors.
The representatives of the "quartet" of lenders (D. Costello, R. Rueffer, N. Giammarioli, D. Velculescu) will all take part in the meeting.
Greece's Alternate Finance Minister G. Chouliarakis will brief the EWG members on developments as well as the measures worth 5.4 billion euros (including taxation and pension reform) Greece plans to implement that will lead to a 3.5% of Gross Domestic Product (GDP) primary surplus by 2018.
Eurozone sources are quietly optimistic that a deal is possible by April 22. European Commission mission chief Declan Costello revealed earlier this week to reporters that the International Monetary Fund wishes an agreement is reached and is not asking for more than those agreed in August.
He also estimated that the differences between the Greek side and the creditors can be bridged.
Also, creditors would like a final agreement without any issues left outstanding at the conclusion of the review. This means the thorny issue of management of non-performing loans will have to be settled.
The schedule of upcoming talks is as follows:
APRIL 4: Government – creditor talks resume in Athens
APRIL 7: EWG meeting
APRIL 13-15: Creditors depart Athens
APRIL 15-17: IMF Spring Summit
APRIL 22: Eurogroup meeting
Meanwhile, Greek government spokeswoman Olga Gerovasili told Real FM radio station on Thursday that the government has a recently renewed and strong mandate to conclude the agreement and create a stable and safe framework for the economy and the society."
"The only ones interested in early elections are those who want to avert the legislation of rules that will boost transparency and public interest," she added.
The comments came after main opposition New Democracy party leader Kyriacos Mitsotakis for the first time called Prime Minister Alexis Tsipras to resign. The conservative main opposition believes that the government's popularity is in for a dive after it begins to implement the austerity measures and tax hikes it is expected to agree to as part of the first review of the adjustment program.