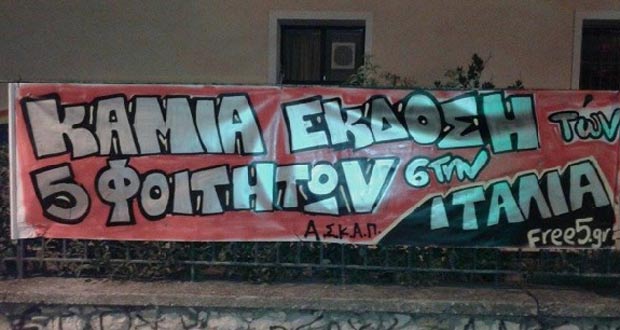 Athens, January 9, 2016/ Independent Balkan News Agency
By Olga Mavrou
The Athens Court of Appeals (Council of Appeals) rejected another two extradition requests for Greek students that Italian authorities accuse of "destruction and looting", during a demonstration in Milan  and concerning the  squatting of a building. Earlier yesterday, Friday, were rejected the first two appeals, by the same authority, but with a different composition of the court. All four cases were  relevant to the same incidents.
The ruling for a fifth case of extradition request is expected on Monday.
The five  demonstrators participated in a rally on the first of May of 2015, in Milan and were arrested one day later in a  an occupied building, where thet were sleeping.
The defence attorneys emphasized the unacceptable  principle  of  "collective responsibility" that the Italian indictment is based upon.  They also supported that the indictment serves  for  the criminalization of the right to participate in a demonstration. Furthermore, as they said,  the extradition would be also unconstitutional, since the Greek constitution forbids the extradition of a foreigner who is prosecuted for his fight for freedom and accordingly Greece cannot extradite a Greek fighting for freedom in another country.
The offences that in Italy are punishable by  8 up to 15 years of imprisonment, according to the Greek law are considered misdemeanours, punishable by light and suspended  sentences.